The 30th Annual Sports Awards were presented last night [Feb. 26] with long jumper Tyrone Smith and basketball player Jenaya Wade-Fray named the Male and Female Athletes of the Year. They are both pictured below: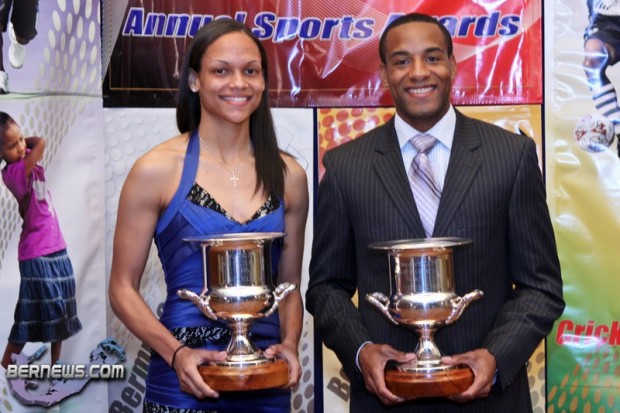 Sprinter Jeneko Place and swimmer Emma Franklin won the inaugural Male and Female Junior Athletes of the Year.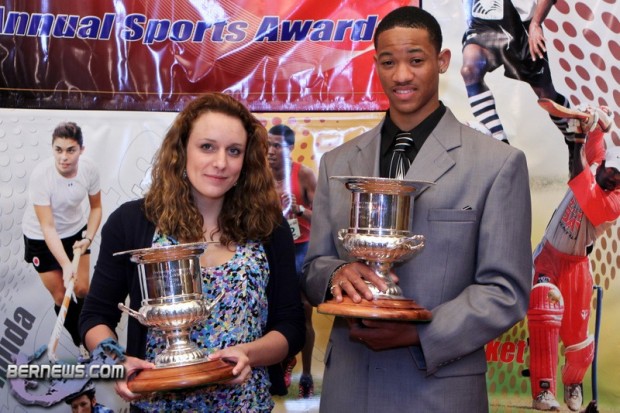 The Male and Female Minister's Awards for Cricket went to OJ Pitcher and Rachael Smith, while Nahki Wells and Shuantae Todd won the Male and Female Minister's Awards for Football.
Male Athlete of the Year
Female Athlete of Year
Male Junior Athlete of the Year
Female Junior Athlete of the Year
Achievement Award
Appreciation Award
Bermuda Security Group (BSG)
Hiscox Insurance (Bermuda) Ltd.
Ace Group of Companies
Special Achievement Awards
Gregory Grimes
Gary C. Fray
Muriel Parker
Sport Citation
Jermal M. Woolridge
Gregory Grimes
Sherman E. Ford
Phyllis M. Sherburne (Jones)
Special Recognition Award
Photos by Only the Best, click to enlarge:
Sports Minister Blakeney's full remarks follow below:
Good Evening Deputy Premier, Cabinet Colleagues, Members of Parliament, Sportsmen and Sportswomen, distinguished guests all, Ladies and gentlemen:

It is my distinct honour and privilege to welcome you tonight to the Annual Sports Awards, a truly auspicious occasion as we mark the 30th anniversary of these awards, first hosted and organized by the Department of Youth, Sports and Recreation in 1980.

We are here tonight to celebrate our most outstanding athletes who epitomize the highest levels of professionalism and the commitment required to be the best they can be. These are the men and women, shining stars and sports icons who inspire us all with their passion and single minded determination to succeed against all odds.

Your dedication to sport has not only resulted in victories for yourselves, your clubs and organizations, but for your country. Many of our legends have been involved in sport during difficult times and some have overcome formidable personal challenges to triumph over adversity but without perseverance, courage and conviction and of course success on the playing field we would be unable to celebrate these laudable achievements off the field in our neighbourhoods and communities and school's.

These accomplishments resonate long after they take place and are instrumental in showing the youth of today what they too can accomplish if they are as dedicated and passionate as the living legends among us.

In 2010 we have seen some notable achievements in sports. Bermuda's top athletes experienced one of their most successful seasons in recent times. Among these highlights were a gold medal in the long jump at the CAC Games, 11 medals won at CARIFTA, 4 medals gained at the CAC Juniors and the silver and bronze won at the NCAA Championships. These magnificent performances illustrate that diligent hard work of athletes, exceptional training programmes and outstanding coaching can be the lynchpin of success rather than funding alone.

I would like to assure you that the Government of Bermuda is fully committed to supporting its sportsmen and sportswomen and firmly believes in the critical contribution of sports to the development of individuals and for our communities.

I am well aware there is some concern about the recent budget cuts in particular on funding for cricket and football – our two leading national sports' but let me be clear – the painful impact of the recession requires that we all make shared sacrifices and as Minister of Youth, Families, Sports and Community Development it is my task to ensure we do more with less as we reset the dial.

How we do this should not lead to alarmist fears that the future of these sports will be sent into terminal decline or that those representing Bermuda at the national or international level should not strive to do their level best to deliver the very best performance they can. Now is the time to show true character and fortitude, step up to the plate and show to world that you can prevail against adversity and just as importantly what you are prepared to do to successfully compete at the highest levels because it's not always only about winning!

There is much to look forward to in the coming years including this year's Pan Am Games 2011 and the London 2012 Olympic Games. Nahki Wells has signed on to Carlisle United as a professional footballer and we hope he flourishes there and I expect to see many sailing triumphs on the world stage with competitors holding their own at home and abroad!

We can also look forward to completion of the new Aquatic Centre at the National Sports Centre which we hope to be ready for the Island Games in 2013, which will be hosted in Bermuda. It is my belief this will enable the next generation of competitive swimmers and divers to thrive and also allow for the introduction of water polo and synchronized swimming.

However, we honour over 25 athletes who will receive awards this evening; and for the first time in thirty years, we will also present awards to the male and female Junior Athlete Of The Year.

As these awards are special this year, the Male and Female Athlete Of The Year will receive $3,000 each and the Junior Male and Female Athlete Of The Year will receive $2,000 each. These funds will be given to the National Sports Governing Bodies for the development of these athletes.

I congratulate all of the nominees who I consider all to be winners and all of the nominees are thoroughly deserving of praise for their discipline and leadership in pursuit of achieving athletic success at the highest level.

It gives me great pleasure to salute you on behalf of the Government and everyone in Bermuda!
Read More About