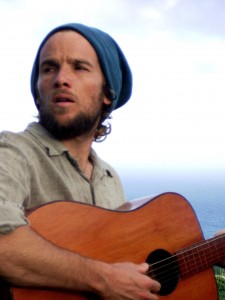 The rocksteady beat goes on for Bermuda reggae singer Mishka in the land of the Mariachi and tejano music.
Mishka will perform a special benefit concert in Mexico on  March 12 following the first day of competition at the Second Annual Punta Sayulita Longboard & Stand-Up Paddle Classic. The free concert will be recorded by Telehit, the top Mexican music television channel, for airing at a later date.
The Punta Sayulita Longboard & Stand-Up Paddle Classic is an invitational event featuring top professional and amateurs competing in surfing and paddling competitions. All proceeds raised support  environmental and youth educational programmes in Mexico.
"We are excited to announce that Mishka will be playing at the Punta Sayulita Classic: Mishka's reggae roots music has great sound and soul and will be a fantastic addition to the weekend festivities for all to enjoy the 'aloha spirit' of the Punta Sayulita Classic," said event organisers today [Feb. 17]. "Moreover, the fact that Mishka, having grown up a waterman himself and having an appreciation for the ocean and environment are attributes that make him an ideal fit for the Punta Sayulita Classic."
Mishka Frith was named the 2009 "Best New Artist" by digital music leader iTunes. In March 2010, Mishka released his fourth album, "Talk About", featuring tracks produced by Butch Walker and a collaboration with country legend Willie Nelson. The album debuted at number one on the iTunes Reggae Music Charts. Mishka's 2009 release, "Above the Bones", debuted at number one on the "Billboard" reggae charts and was followed by an extensive world tour.
The brother of internationally renowned Bermudian songbird Heather Nova, Mishka and his siblings grew up on a boat in Bermuda and in the Caribbean. Mishka's record label, j.k. livin records, was founded in 2006 by actor, Matthew McConaughey, for the purpose of producing  the Bermudian performer's music.
Mr. McConaughey first became familiar with Mishka on New Year's Eve in 2000 after he had been unable to sleep for three consecutive days. When he heard Mishka's music, Mr. McConaughey admits he "slept like a baby for 5 straight hours," and was immediately hooked to Mishka's comfort-inducing, soulful melodies.
The actor became a man on a mission, determined to track down the artist that was behind the "soundtrack of his life," and searched for Mishka for almost five years before finally catching him at the House of Blues in Los Angeles. Mr. McConaughey made a quick phone call to his lawyer upon meeting Mishka and officially created the j.k. livin record label to release Mishka's music to the masses.
Read More About
Category: All, Entertainment, Music