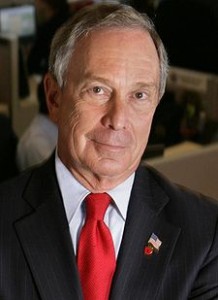 With the time he allegedly spent at his Tucker's Town home over Christmas causing his credibility to disappear in a self-created Bermuda Triangle of voter and media unhappiness, New York City Mayor Michael Bloomberg may soon be legally required to notify the public every time he's out of town.
The New York City Council is contemplating legislation which would require Mr. Bloomberg to tell voters whenever he is travelling given ongoing repercussions from a mishandled Christmas weekend snow storm which paralysed the city.
"After shrugging off his globe-trotting, none-of-your-business disappearances for nine years, lawmakers are suddenly pestering City Hall aides about the mayor's weekend whereabouts, reports "The New York Times today [Feb. 7]. "Editorial writers have derisively compared him to the perpetually camouflaged Waldo, wondering how New Yorkers are supposed to find him. And a member of the City Council is exploring a bill that could — what's this? — require Mr. Bloomberg to notify the public every time he, say, jets off to Bermuda for a round of golf.
"A mandatory sign-out sheet for the billionaire mayor? City Hall seems apoplectic. But the clamor is unlikely to die down, largely because the mayor refuses to disclose where he and his top lieutenants were when his administration botched the cleanup of the Christmas weekend blizzard, creating confusion about who was in charge."
Billionaire financier and media mogul Mr. Bloomberg — who has five vacation homes which include properties in Bermuda, Colorado and London — draws what the newspaper calls a "highly unusual"  veil of "hyper-secrecy" over his weekend travel plans.
"In the complicated marriage between Mr. Bloomberg and those he governs, there had always been an unspoken understanding: He ran the city well, and they resisted the urge to poke into his private life," said the "New York Times".
"His handling of the December 26 snowstorm, however, appeared to change that. Now, New Yorkers are treating him like, well, an ordinary public official, demanding pesky information like whether he is on their continent during a disaster.
"… For a decade, Mr. Bloomberg has steadfastly rejected calls for transparency in his personal travels, arguing that in an age of instant communication, nobody needs to know his exact location. The mayor, he argues, is mayor whether he is in City Hall, or Singapore, or somewhere in between."
Earlier this month the "New York Times" said Bermuda residents had confirmed the Mayor's private jet had been spotted at L.F. Wade International Airport during the city's Christmas "Snowmageddon" — a claim Mr. Bloomberg still refuses to confirm or deny.
"Just where Mr. Bloomberg was over the Christmas weekend, as a snowstorm bore down on New York City, remains a mystery, prompting intense speculation in the New York press, even now," said the newspaper. "Mr. Bloomberg and his aides refuse to talk about it. But the residents of Bermuda have taken no such vow of silence.
"They say that Mr. Bloomberg's plane arrived on the island, where he owns a large waterfront home, sometime after midnight on Christmas morning. They spoke on condition of anonymity, for fear of inflaming the mayor and the local authorities, who prize discretion for visiting dignitaries."
Nicknamed "Bermuda Mike" in the New York tabloid press since the December incident,  the Mayor's handling of the blizzard continues to be described as his "Katrina Moment" — a reference to President George W. Bush's delayed response to the hurricane which caused catastrophic damage in New Orleans.
Read More About
Category: All