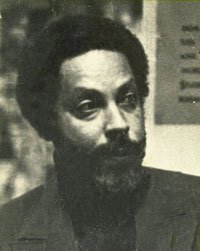 A pioneering work on Bermuda's black history is back in print after almost 40 years along with a  previously unpublished biography of Cobbs Hill Methodist Church builder Edward Fraser also written by renowned local author Cyril Outerbridge Packwood [pictured].
Originally released in 1975, the new edition of Mr. Packwood's "Chained On The Rock" — the first full-length account of slavery in Bermuda – was launched at the Bermuda National Museum on February 28 along with the first-ever imprint of the late Bermudian historian's "Edward Fraser: From Slave to Missionary."
At a ceremony attended by Community & Cultural Development Minister Wayne Scott and co-sponsored by the Museum and the Department of Community & Cultural Affairs, Mr. Packwood's daughter Cheryl — CEO of Business Bermuda — said her father would be "overjoyed" by the continuing interest in his groundbreaking historical research.
"This day has been much in the making and long in coming," Ms Packwood told guests at the launch for the two-books. "It started with [Bermudian historian] Dr. Clarence Maxwell who, in 2007, came down to look at some audio tapes my father, Cyril Outerbridge Packwood, had made of interviews with Bermudians from back in the day — as my boys would say. Clarence saw my father's treasure trove of books, memorabilia, research papers, photos and other good things that only an historian and academic could truly appreciate. And, there was this matter of an out-of-print 'Chained on the Rock' and a few unpublished manuscripts.
"Clarence put me in touch with [National Museum director] Dr. Edward Harris and there it all began. Dr. Harris came all the way down to St. George's with [a station wagon] and a van. Over a period of a few weeks, he proceeded to empty out my parents' house. Then I heard nothing from him. I always tease him that I felt like I had been loved and left for greener pastures.
The New, Updated Edition Of "Chained On The Rock"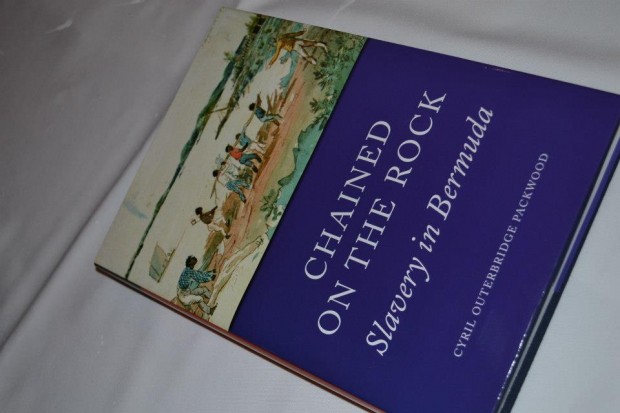 "After six years and lots of my pestering, because anyone who knows me, knows I do not take no for an answer, we are here with the publications of the second edition of 'Chained on the Rock' and the first edition of 'Edward Fraser: From Slave to Missionary'. My father would be overjoyed with one, but two would have had him in tears. He was an emotional and sensitive man. His life long dream was to have 'Edward Fraser' published and, while it did not happen in his lifetime, it has happened today."
Author, librarian and historian Cyril Outerbridge Packwood was born in St. George's in 1930.  Mr. Packwood received a bachelor's degree in history from Fisk University in Tennessee and a master of science in library science from Case Western Reserve University in Cleveland, Ohio. He later earned a second master's degree, in history, from Hunter College in New York.
He worked in the New York Public Library system from 1957 to 1968 and from 1968 to 1985, at the Borough of Manhattan Community College Library, where he was supervising librarian. In 1985, he returned to the island to become head librarian of the Bermuda Library.
Mr. Packwood's other books include "Detour Bermuda, Destination US House of Representative: The Life of Joseph Rainey", a brisk account of how that former South Carolina slave  found sanctuary in Bermuda during the American Civil War before returning to the United States to become the first black member of Congress.
Mr. Packwood died in 1998 at the age of 67.
Cheryl Packwood At The National Museum Book Launch With Her Mother Dorothy Packwood Looking On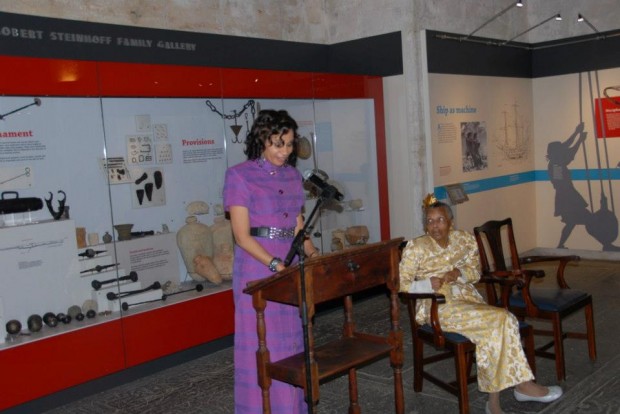 The updated edition of "Chained On The Rock" — which surveys the historical, cultural and economic ramifications of slavery in Bermuda between 1619 and passage of the British Slavery Abolition Act in 1833 — contains a section of colour photographs along with some new material. Mr. Packwood's previously unpublished work on Edward Fraser recounts the story of the former Barbadian slave who arrived in Bermuda in 1818 and and soon became the leader of a Methodist congregation in Warwick. He spearheaded the building of  Cobbs Hill Methodist Church by slaves and free men of colour between 1825 and 1827.  The oldest Methodist structure in Bermuda, the road where the church is located is called Moonlight Lane because most of the work was done at night under the light of the moon.
Both books were edited by Mrs. C.F.E. Hollis Hallett.
"I want to thank Dr. Clarence Maxwell for knowing what to do with all the papers, books, photos, tapes, and what for most people seemed to be junk," said Ms Packwood at the conclusion of her book launch remarks. "Thank you for being there all along the way. Thank you Dr. Harris because you saw the dream, believed in the dream and have put more effort into the whole project than any of us will ever know and thank you for talking to me through all hours of the night and day. Thank you Mrs. Hallett for without your dedication and thorough editing of both books these publications would never ever have come to be.
Ms Packwood With Family And Friends At The Book Launch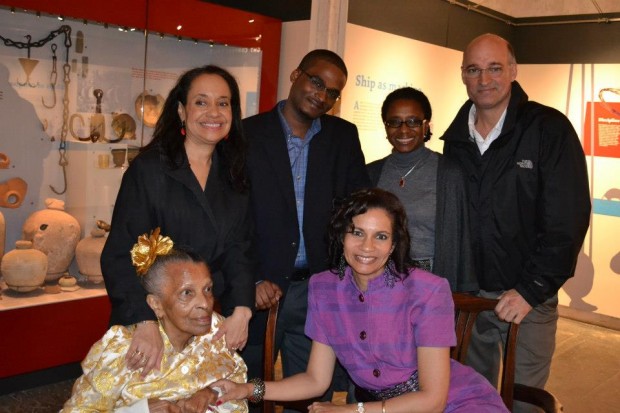 "Thank you to my mother. My mother was there with my father every step of the way through both treatises. She edited both original manuscripts. In the end, there would not have been a 'Chained on the Rock' or an 'Edward Fraser' or even a possible fictional work which we hope to publish with out Dorothy Isabelle Cunningham Packwood. My mother was the woman in the shadows but she was the force and energy behind my father."
An established artist in her own right, some of Mrs. Dorothy Packwood's paintings were also exhibited at the National Museum event.
The two book set will be available in book stores in Bermuda this week and at the Bermuda National Museum in Dockyard for $50. For overseas orders, please email director@bmm.bm.
Read More About