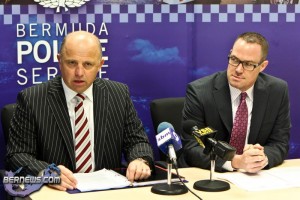 [Updated] This morning [Feb 7] the Bermuda Police Service held a press conference to address the tragic shooting murder of 29-year-old Colford Ferguson that occurred this past Friday. Speaking today were Assistant Commissioner of Police David Mirfield, and Detective Chief Inspector Nicholas Pedro [pictured].
Around 2pm on Friday [Feb 4], Police responded to a confirmed firearm incident in the area of Somerset Road and East Shore Road in Sandys parish.
The Police described the shooting as a gang style shooting, however said they do not believe the victim was a gang member.
The shooting took place inside a building, and Police said they do not believe anyone else was in the building at the time of the incident.
There has previously been discussion about the time the Police took to respond, bystanders we spoke with reporting it seemed to be around 15 mins, and other reports suggested it was 30 mins. The Police said today that they received the first call at 2:08pm, and the first officers on scene arrived in 14 minutes.
Mr Ferguson was found inside in a non responsive state, and pronounced dead on scene by an on call physician. The Police also said an autopsy has been done, and confirmed that Mr Ferguson's cause of death was from multiple gunshot wounds.
Police officers spent time over weekend in Somerset canvassing, and are especially interested in speaking with a man in dark clothing seen in the bus layby opposite the scene.
The Police had previously asked for the person who took a photo of the victim dead at the scene to come forward to assist in the investigation, and had no comment today whether the person had or not.
There have been no arrests made in relation to this case of yet, however Police are appealing for any witnesses or anyone with any information to contact the Serious Crimes Unit on 295-0011 or the independent confidential Crime Stoppers Bermuda hotline on 800-8477.
Update: Official Police statements added…
Assistant Commissioner of Police David Mirfield:
The Bermuda Police Service sends its sincere condolences to the family and friends of Colford Ferguson.

Shortly Detective Chief Inspector Pedro will address you directly as to the progress made in the investigation, however before that I would just like to speak to the progress we have made over the past year in our fight to tackle gun and gang violence.

You will be aware that this is the first death since August last year relating to gun violence, that will clearly be no comfort to Mr. Ferguson's family and I do not wish to minimize the impact it will have on them and his friends.

However the Bermuda Police Service has made significant progress in bringing offenders to justice:-

* Six (6) persons have been charged with murder, and will appear before the Supreme Court in the next six months;
* Eleven persons have been charged with attempted murder, and/or firearms offences;
* Seven (7) convictions in a row in the Supreme Court since January 2010;
* At least 9 other persons will stand trail for firearms related offences again in 2011
* During recent trials for gun related offences persons have been sent to prison for over 60 years including a single 25 year sentence.

While it is crucial to catch and convict those responsible for gun and gang violence we are also working extremely hard to prevent the violence escalating and to keep our communities safe, you will know from the figures recently released that we are arresting more people, (+11.5%) we are stopping and searching more people (+153% 9,400), we deploy visible uniform presence to the areas of most community tension.

Our efforts are greatly assisted by the support of individuals who are prepared to come forward and assist our investigations. It is clear that the people of Bermuda want to help the police; that could be by giving direct evidence relating to a crime; supplying information in person or indeed anonymously or just passing on personal views, all of which helps the service tackle criminal activity.
Detective Chief Inspector Nicholas Pedro:
May I start by offering my sincere condolences to the family & friends of Mr. Ferguson on behalf of the investigating team.

At 2:08pm on Friday 4th February 2011, several calls were received through '911' suggesting gun shots were heard in Somerset Village. The investigation has revealed that persons in the village went into the identified crime scene at #2 East Shore Road, Sandys, and found the victim in this matter, Mr. Colford Ferguson. The first officers arrived within 14 minutes of receiving the first call. The scene was immediately preserved and cordoned off for forensic exam.

Mr. Ferguson was in a non-responsive state and was subsequently declared dead by an on duty physician.

An autopsy has been conducted by an overseas forensic pathologist, which determined that Mr. Ferguson died from multiple gunshot wounds.

A full investigation into this incident is underway. A complement of detectives from the Serious Crime Unit and our Forensic Support Unit has examined the scene to collect evidence, and witnesses have been sought, and interviewed. There are a number of lines of enquiry being carried out by the investigating team and significant progress has already been made.

Officers have been in the Somerset area over the weekend interviewing witnesses, and canvassing for other evidence.

The investigating team would still like to speak with any person that may have seen or heard anything related to this incident – however irrelevant it may seem.

Whilst the Police will actively seek out witnesses and collect all available evidence, we encourage anyone with pertinent information to come forward. Again, this information can and will be treated in the strictest confidence.

The Serious Crime Unit can be contacted on 299-8106. Alternatively anyone with any information can contact the CONFIDENTIAL & independent Crime Stoppers Bermuda hotline on 800-8477 (TIPS).
Update #2: Video…
Read More About