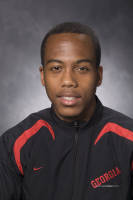 Bermudian 800 meter specialist Aaron Evans [#AaronEvans] has shattered yet another record – his third record breaking run in under a year.
Mr Evans shot past his previous indoor 800 meter career-best time in the event by more than two seconds after clocking a 1:48.07 to finish ninth place overall. Mr Evans takes both his Georgia school and Bermuda records, after breaking the 1:48.34 record he set in 1984 by fellow Bermudian Steve Burgess.
Mr Evans now holds both the indoor and outdoor records at UGA. Back in May 2010, he broke the 800 metre outdoor record, clocking in at 1:47.00, breaking the old record of 1:47:64 – which had also been set by Steve Burgess who had held the Bermuda record for 25 years. At the time Mr Burgess said it was an honour to step aside for the "new king", and praised Mr Evans efforts.
"Evans wasn't able to train much over the last two weeks since he was sick so I though he competed very well in those circumstances," said Georgia's distance coach Jeff Pigg. "We know there's more there and now I think he has the confidence and will be able to get back to work to prepare for the (Southeastern Conference) Championships. He made the best out of this opportunity thanks to his talent and desire today."
The son of educators Dr. Freddie Evans and Gina Evans, he attended Warwick Academy till he was 16, then left to attend Cushing Academy in Massachusetts. He was previously a semifinalist in the 800 at the 2007 World Youth Championships in Ostrava, Czech Republic, won a silver medal in the 800m at the 2009 Carifta Games and a bronze medal at the 2008 Carifta Games.
Read More About