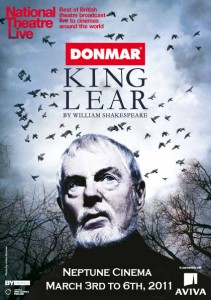 Higher Visions will have the second installment of live screenings in Bermuda of theatrical productions from London following the screening of FELA! on February 14-16 at the Neptune Cinema in Dockyard.
Between February through June Bermudians will have the opportunity to view four professionally produced performances on screen live from the National Theatre of London. National Theatre Live is an initiative to broadcast live performances of plays to cinemas worldwide; launched in June 2009 over 150,000 people saw the pilot season on 320 cinema screens in 22 countries. From South Africa to Australia, across the US and Canada and throughout the UK and Europe, National Theatre Live continues to grow as it enters its second season.
On March 3rd to 6th, 2011, the Donmar Warehouse's KING LEAR featuring Derek Jacobi as lead under the direction of the award-winning Michael Grandage will be shown once again at the Neptune Cinema.
Other performances in the National Theatre Live Series for the remainder of the season include Danny Boyle's production of a new adaptation of "FRANKENSTEIN" which opens in London on March 17th , and Howard Davies' production of Chekhov's "THE CHERRY ORCHARD" which opens on June 30th.
This week's screening will begin with a complimentary private screening for press representatives, educators and artists on Thursday followed by a student screening on Friday, March 4th at the Liberty Theatre at 9:30am. On Saturday the general viewings will take place at 7:30pm and and on Sunday at 5pm.Costs for tickets are $35 and $10 for the student presentation. They are available online at www.premiertickets.bm. or at the Liberty Theatre box office. For further information call 291-6243 or email higher_visions@yahoo.com.
Read More About
Category: All, Entertainment, Films/Movies