The second annual Argus Walk the Walk charity 5K, raised $19,274 – almost twice the amount raised by the event in its first year – for a wide variety of local charities.
The walk is a unique fundraiser that allowed participants to choose the charity they want to support. Over 700 people registered for the walk, which took place this past Sunday [Feb.27]. The Centre on Philanthropy will be distributing the funds raised to 87 locally registered charities.
Pictured below are Alison Hill of the Argus Group; Pamela Barit Nolan from The Centre on Philanthropy; and Jennifer Burland Adams of The Centre on Philanthropy; shown with representatives of some of the 87 local charities supported by Argus Walk the Walk 2011 outside the offices of the Argus Group and The Centre of Philanthropy on Wesley Street in Hamilton.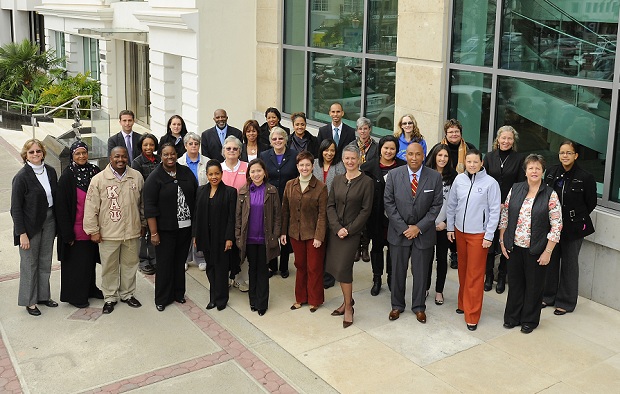 The top ten charities to receive the most funding support from the event are:
P.A.L.S. – $1,671
Bermuda Hospitals Charitable Trust – $1,070
Answering the Cry of the Poor (ANCOP) – $800
The Sunshine League – $780
Bermuda Institute – $580
Big Brothers Big Sisters of Bermuda – $560
The Batwa Seaton Peoples Centre – $545
Bermuda Cancer and Health Centre – $540
Bermuda Diabetes Association – $420
Bermuda Feline Assistance Bureau – $380
In addition, $5 from each entry fee will go to support The Centre on Philanthropy's website, www.volunteer.bm, Bermuda's only volunteer recruitment website. This interactive website allows nonprofits to advertise their volunteer opportunities to the community and individuals to search for activities that suit their skills, experience and schedule.
Jennifer Burland Adams, Development & Engagement Manager of The Centre on Philanthropy, says: "The event empowers charities, from the smallest to the more well-known, to encourage their existing network of supporters, and perhaps even new advocates, to walk for them. The increase in participants and the almost doubling of funds raised is a great example of how passionate and committed Bermudians are to their chrarities. We are grateful to the Argus Group for their continued support."
Alison Hill, Chief Executive Officer of the Argus Group, says: "We are delighted to partner with The Centre on Philanthropy again this year for the Argus Walk the Walk. From this single event, many charities benefit, representing a wide range of causes. With less public funding available this year for many local charities, there has never been a more important time for Argus to provide support to the community in which it operates."
A number of prizes were presented to key supporters of the Walk the Walk following the event. Deloitte received the award for the largest corporate team to take part in the event, United Dance Productions scooped the prize for the largest youth team and Mubuhay Walkers for ANCOP was recognised as the team with the most spirit.
Read More About