In the third of a series of profiles of contestants, Bernews today spotlights 22-year-old Jana Lynn Outerbridge who is representing St. George's East in the upcoming Miss Bermuda Pageant.
After attending home school locally, she went on to graduate from Tennessee State University. Ms Outerbridge is now participating in the Cabinet Office Jumpstart Programme working as a Cabinet Office intern. She has spent time at the Central Policy Unit, Department of Education and Child and Adolescent Services.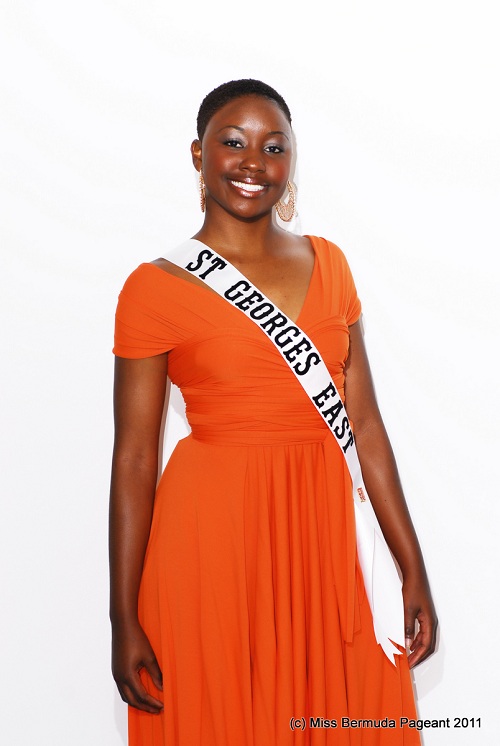 An accomplished equestrian, she has competed in many local show jumping competitions including the Annual Exhibition. She has represented Bermuda internationally through the Bermuda Equestrian Federation and was a member of the gold medal winning team which competed in the 2004 Caribbean Equestrian Association.
While in university, she was voted Miss SOCA [Students Of Caribbean Ancestry 2008/9], Miss Delta Sigma Theta Sorority Inc. [2009/10], and won a university modeling competition and was named "Miss Allure Modeling Troop" 2010.
She volunteers at the WindReach Recreational Village on Saturday mornings working with disabled children. Ms Outerbridge is also a past Bermuda International Business Association [BIBA] top speed interviewee, danced at Somerset School of Dance and received the Duke of Edinburgh Award Programme silver medal.
The daughter of Gregory Outerbridge Sr. and Glenda Outerbridge, she said her favourite quotation is: "Why strive to be good when you can strive for greatness?"
Ms Outerbridge commented: "If I am fortunate to be the next Miss Bermuda and even if I am not I want the people of Bermuda to know that it is never too late to achieve any goal you set in life. It only takes one person to believe in you and that one person is you.
"As individuals if we work to make positives changes it can only have a positive impact on our island. We must all begin to take responsibility for the current state of our island and work diligently to make it an even better place for current generations and those to come."
"As I aspire to be a psychologist — my passion being mental health – I would like to encourage everyone to take the state of their minds more seriously. Our minds are such valuable tools and we must all pay special attention to what they need. The stigma often places on receiving assistance for a mental condition must change. As an island we never know what life may throw at us or when our current situation may alter."
"Bermuda, I know our island is not doing as well as it could. But there are a lot of positive attributes that we should be proud of. I charge everyone to point out one positive in their lives – and if there are none, then make that change for yourself and the island."
Sixteen young ladies will compete for the title of Miss Bermuda on June 12 at the Fairmont Southampton. Tickets, which range from $65 to $125, are available here on Bdatix.bm.
Read More About
Category: All, News, Style & Beauty