This evening [Apr.29] there will be a benefit dance at the Prison Officers Recreation Club in Dockyard to help raise money for the medical care of Ralph Burrows, who was paralyzed as a result of a shooting five months ago.
Around 5:30am on November 27, 2010, Mr. Burrows and another man were shot while in the St. Monica's Road, Pembroke area. Both victims were rushed to the hospital and placed in the Intensive Care Unit.
The other victim recovered, however Mr Burrows was left paralyzed from the chest down as a result of the shooting as one bullet entered his neck and severed his spinal cord. He cannot use his hands, but does have some limited arm movement. For a while he was without the ability to speak due to damage to his vocal cords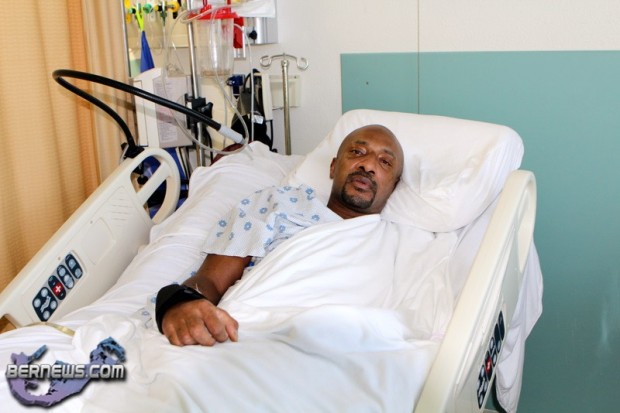 Despite the tragic events, Mr. Burrows remains in good spirits. He said he is doing a lot better than when he first arrived at King Edward VII Memorial Hospital, saying he initially "didn't want to live like this: but I'm okay, I have accepted it. I have come to grips with it."
He said, "I was a carefree happy active individual until November 27, 2010 when some coward or cowards shot me as I left a house in the St. Monica's area."
" … I cannot use my hands but I do have some arm movement. I am very sick but my family are here for me."
Mr. Burrows said the doctors have told him he will never walk again, but he still believes that anything is possible. He spoke highly of his family and friends, and the support they have shown him.
Mr. Burrows said the island's gunmen are hurting families as well as the victims. He spoke of his family's ongoing pain in dealing with his situation.
He said he recalls "back in the day", people used to fight and get over it but now lives are being taken in a tragic fashion and the collateral damage inflicted on families and communities is taking a terrible toll.
Saying while he would never claim to be an angel, Mr. Burrows argued no one deserves to be put in the predicament  he finds himself in — or to have their life taken away from them.
"It's cowardly to shoot someone from behind in the back of their head," Mr. Burrows said.
Since he was wounded Mr. Burrows said he has turned his life over to God, and through prayer has managed to move on.
As of this writing, the investigation into the shooting remains open, and anyone with any information is asked to contact the Serious Crime Unit on 299-8115 or the independent, confidential Crime Stoppers Bermuda hotline on 800-8477.
The event will be held tonight at the Prison Officers Recreation Club in Dockyard starting at 10pm. Music will be by Prophecy Sound & DJ Brownie. Full security will be in effect. The donation/entry fee is $20, and everyone is welcome to attend.
Mr. Burrows plans to attend and his barber visited him in the hospital and gave him a shave and a haircut for his night out, which he is looking forward to. Funds raised will be used to assist in Mr. Burrow's medical costs and he is hoping his ongoing rehabilitation will one day enable him to use a wheelchair.
Read More About