Last night [Apr.16] the Bermuda Junior Netball Team returned home from St Kitts, arriving at the airport in a jubilant mood with their trophies in hand.
The young athletes put on a stellar performance to win the Caribbean Netball Association's Jean Pierre Youth Tournament Developmental Group for a second year in a row.
Bermuda played islands including Guyana, Anguilla and St. Kitts, and went undefeated, outscoring their opponents 123 – 61 to win the trophy.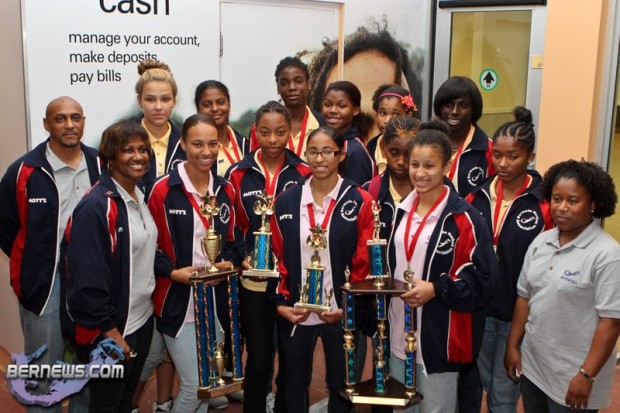 Danielle Onyia led Bermuda in scoring with 59 goals, while Melissa Fiddick poured in 29 goals. Kirstin Saltus scored 18 goals, Taahira Butterfield added 13 goals and Diara Benjamin scored 4 goals.
Speaking at the Airport when the team arrived, Bermuda Netball Association President Debra Saltus said, "We achieved our goal, we left Bermuda looking to bring back the silverware and this is exactly what we did. I am so proud of the girls as they pulled together and clicked all at the same time."
Also at the Airport to greet the team was the Minister of Youth, Families, Sports and Community Development Glenn Blakeney who said he was delighted for the team, and wanted to show his support and let them know that we are proud of them.
Read More About