After just two years on the island's political scene, the Bermuda Democratic Alliance will be dissolving tomorrow [May 17] as its three Parliamentarians join with former United Bermuda Party MPs to form a new combined opposition party, the One Bermuda Alliance.
BDA chairman, Michael Fahy said, "Today seven MP's from the UBP resigned from the UBP in anticipation of the launch of the One Bermuda Alliance. In accordance with our agreement [with the former UBP members], the BDA will be dissolved upon the launch of the OBA tomorrow."
"The BDA formed to effect real change in Bermuda. Tomorrow marks the real beginning of the change Bermuda needs and desires. It will be a New Day."

In 2009 UBP MPs Donte Hunt, Mark Pettingill and Shawn Crockwell split from the UBP's Parliamentary ranks to form the Bermuda Democratic Alliance.
Last week Craig Cannonier and Michael Fahy released statements regarding the Bermuda Democratic Alliance [BDA] plans to dissolve and join with members of the UBP to form the One Bermuda Alliance, with Mr Fahy saying "A divided opposition cannot stand."
The BDA was founded by former UBP Young Turks Shawn Crockwell, Donte Hunt, Mark Pettingill, Wayne Scott, Michael Fahy, Sean Pitcher and Michael W. Branco.
Dissatisfied with what they perceived as organisational inertia and a lack of motivation within the UBP, the BDA founders launched the party as a clear alternative to the UBP/PLP duopoly which has defined Bermudian politics since the 1968 General Election, the first held under the Westminster two-party system.
The BDA only faced one electoral test in its two-year history — when insurance executive Sylvan Richards challenged the Progressive Labour Party's Marc Bean and the UBP's Devrae Noel-Simmons in the Warwick #26 constituency former Premier Dr. Ewart Brown represented before he resigned from Parliament last year. [Mr Richards is pictured below with BDA Leader Craig Cannonier when his candidacy was announced].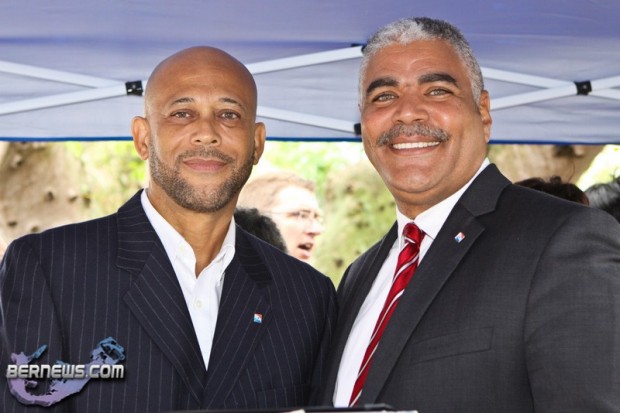 At the December by-election former Government Senator Mr. Bean romped to victory in the safe PLP constituency while Mr. Richards and Mr. Noel-Simmons divided the traditional opposition vote almost evenly. Merger talks between the UBP and the BDA began shortly after the Warwick vote.
Read More About