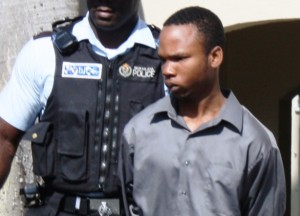 In the ongoing trial where Kevin Warner is charged with the murder of Dekimo Martin, Crown Counsel and lead prosecutor Carrington Mahoney began his closing arguments at 9:50am today [May 18].
Taking a 20 minutes break during the proceedings, he ended his argument at 12:05pm, having spent just under two hours making his presentation for the Crown.
Defending Kevin Warner, QC Kim Hollis began her closing argument immediately after and by agreement with the Judge and Jury, she went right through the usual 12:30pm lunch break start. QC HJollis ended her argument at 1:05pm having spent an hour presenting the case for the defence.
The Jury is now out for lunch and the trial resumes at 2:30pm this afternoon. The next step is the Direction by Justice Carlyle Greaves, after which the whole matter of deciding Guilt or Innocence will be put to the jury.
The trial of 21-year-old Kevin Andre Warner started on May 9th in the Supreme Court. Mr Warner is alleged to have murdered 24-year-old Dekimo "Purple" Martin on May 28th, 2010. The two men were well known to each other and said to be friends. Mr Warner has pleaded not guilty.
Update 2:30: Kim Hollis QC is continuing her closing argument.
Read More About
Category: All, Court Reports, Crime, News