Earlier today [June 16] 14 students received their G.E.D. Diploma at the C.A.R.E Learning Centre Graduation held at at the St. Paul Centennial Worship Centre.
The speakers for the event were the newly crowned Miss Bermuda Jana Outerbridge, and Rev. Clarke D. Minors of the Miracle Temple, New Testament Church of God. Ms Outerbridge, a 2006 graduate of the programme herself, told the graduates, "I want to challenge you to not stop here, the opportunities are endless."
The C.A.R.E graduates were Edward Albouy, Brooke Caisey, Koshun Durrant, Phylicia Furbert, Sharelle Gibbons, Albert Lightbourne, Chelsea Longworth, Cejae Payne, Jahvon Outerbridge and Robert Simmons.
The Mirrors graduates were Edward DeSilva Ottley and Shannon Wilkinson, while Richard Carlington and Craig Daniels participated in the W&E programme. The valedictorian was Edward DeSilva Ottley.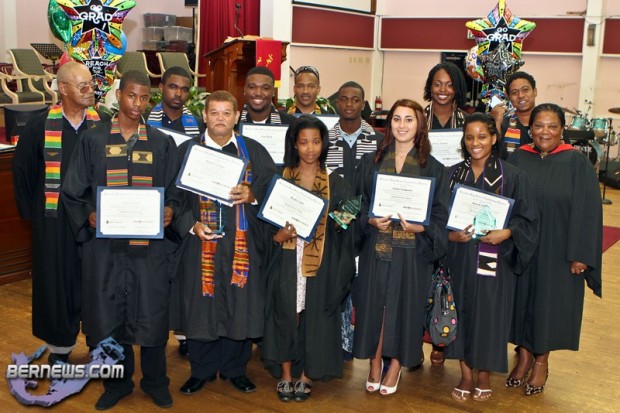 Minister Neletha Butterfield, who owns the Centre, announced the graduates, and their friends and family cheered them on as they received their diplomas from Rev.Minors. Governor Sir Richard Gozney, MP Lovitta Foggo, and Speaker of the House Stanley Lowe were in attendance.
Photos by Only the Best, click to enlarge:
Read More About