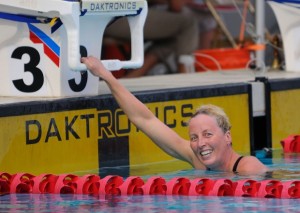 Bermudian swimmer Lisa Blackburn continues to shatter records and win medals at the 2011 Central American & Caribbean Championships in Mayaguez, Puerto Rico – picking up her fourth medal in the most recent day of competition.
She was able to claim a Silver medal – her fourth medal of the Championships – in the 50m breaststroke, setting a new Bermuda record in the process.
Ms Blackburn's first medal was a Silver in the 200m breastroke, her second medal was a Gold in the 200m individual medley, and her third medal – also a Gold – came in the 100m breaststroke.
All four medals wins also saw Ms Blackburn set new Bermuda records for each event. Ms Blackburn is the second Bermudian athlete to win four medals in international competition this week, with Shianne Smith also picking up four track and field medals at the 2011 Island Games in the Isle of Wight, U.K.
Other top Bermuda swimmers are in action, with Day 4 of the Championship seeing Nicole Yearwood swam a personal best time in the 200 free to reach the finals. She lowered her time by another 2 seconds and finished in 6th place."
On Day 5 Nick Patterson swam a personal best in the 400 free but was unable to reach the finals. Jesse Washington swam a personal best in the 200 free. He swam a very good 50 fly dropping 2 seconds from his record breaking swim at the Carifta Championships and reached the finals in 7th place.
In the finals he lowered his record by 6 more 10ths of a second and finished in 5th place after unfortunately choking on water during his last few strokes. His time is faster than the National 13 and 14 age record and he has already reached the AAA level in that age group even though he has just recently turned 12.
The final day of competition will see Ashley Yearwood and Nick Patterson swimming the 50 fly, Rebecca Heyliger and Lisa Blackburn swimming the 50 free, Nicole Yearwood swimming the 100 back and Jesse Washington in the 400 free."
Read More About