Only a day after winning a silver medal in record setting style, Lisa Blackburn has turned out another big performance during the 2011 Caribbean Championships being held in in Mayaguez Puerto Rico – capturing a Gold Medal and breaking yet another record.
Ms Blackburn set a new Bermuda record of 2:25:56 in the 200m individual medley. This time earned her the second medal of these championships, and saw Ms Blackburn finish some three seconds ahead of the second place finisher Coy Maria from Guatemala. She is pictured below after the race yesterday: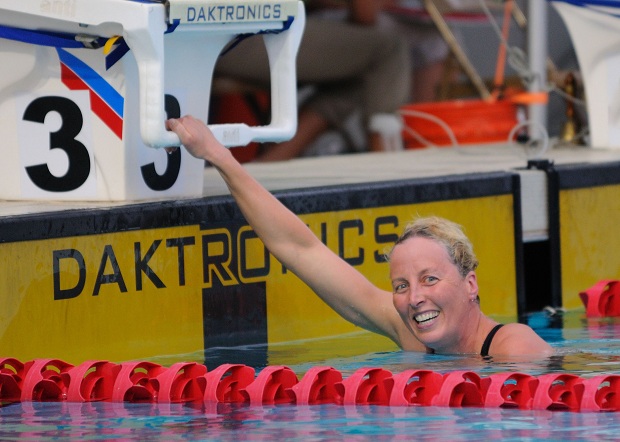 National Swimming Coach Ben Smith said, "We had some good swims in the heats of day 2. Ashley Yearwood, Nick Patterson and Lisa Blackburn made it into the finals with good morning swims.
"In the finals Ashley finished 6th with a fast time and was 2 tenths of a second from the bronze medal. Nick Patterson swam well in the 200 fly but was unable to reach his qualifying time in the event."
"Lisa was our last swimmer for the night and definitely saved the best for last. In the 200 IM she raced into the lead in the fly only to give up a big lead to a swimmer from Puerto Rico in the back. The breaststroke saw Lisa close the gap and finish ahead with her pulling away in the freestyle. She set a new record as she claimed the Gold medal".
"Tomorrow we will see Jesse in the 100 fly, Nick in the 100 free, 200 IM, Ashley in the 100 free and Lisa swimming her main event 100 breast. "
Read More About
Category: All