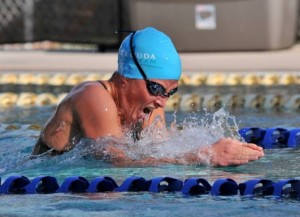 Lisa Blackburn continues to turn up the heat at the 2011 Central American & Caribbean Swimming Championships [CCCAN] in Puerto Rico, collecting her third medal, with all three won in record setting style.
Her latest swim not only broke the Bermuda record – it shattered a six-year-old Central American & Caribbean record previously held by a Cuban Olympic swimmer.
Ms Blackburn's first medal was a Silver in the 200m breastroke, with her performance shattering Jenny Smatt's 1992 record.
Her second medal was a Gold in the 200m individual medley, which saw her set a new Bermuda record of 2:25:56.
Her third medal – also a Gold – came in the 100m breaststroke, during which she broke the third Bermuda record of the meet.
In addition to breaking the Bermuda record, Ms Blackburn's final time of 1:13.23 broke the Central American & Caribbean Swimming Championship record of 1:13.33, which was set back in 2005 by the Cuban Olympic swimmer Imaday Nunez.
Finishing behind Ms Blackburn, 39, was Patricia Casellas of Puerto Rico in 1:14.40, McKayla Lightbourn of the Bahamas was third in 1:14.77, Natalia Castillo Luna of Mexico was fourth, and Ashley Bransford of Aruba rounded out the top 5.
Other Bermuda swimmers were in action in Puerto Rico, with Ashley Yearwood just missing out on a finals spot when she finished 11th in the Girls 15-17 100 Long Course (LC) Meter Freestyle with a time of 1:02.38.
In the Boys 15-17 100 LC Meter Freestyle preliminaries Nicholas Patterson finished 20th with a time of 58.57, while Jesse Washington finished 12th in the Boys 11-12 100 LC Meter Butterfly with a time of 1:09.32, Patterson then finished 13th in the Boys 15-17 200 LC Meter IM clocking a time of 2:25.16.
Read More About