Bermuda's swimmers returned last night [July 3] with a total of five medals they earned at the 2011 Central American & Caribbean Swimming Championships [CCCAN] which was held in Mayaguez,  Puerto Rico.
Six of the island's top swimmers – Lisa Blackburn, Nicole Yearwood, Ashley Yearwood, Rebecca Heyliger, Nicholas Patterson and Jesse Washington – took part in the Championships, which were held from June 27th – July 2nd. The team is picture below: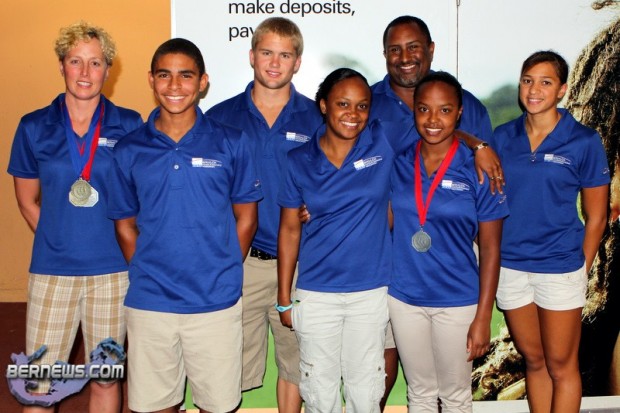 With the exception of the Yearwood sisters, this was the first CCCAN Championships the swimmers had competed in. Ashley Yearwood is pictured below in action in the pool: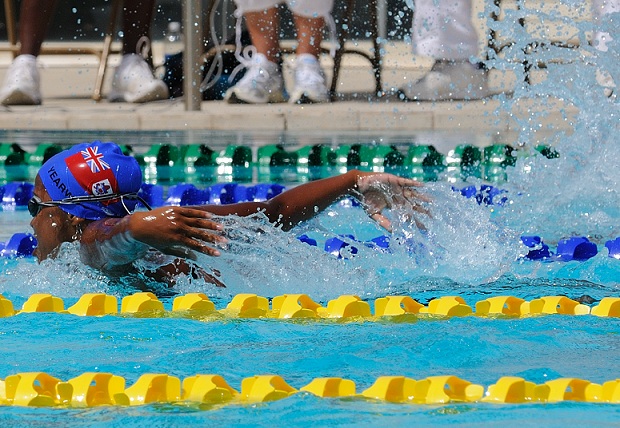 In addition to winning a total of five medals, Bermuda's swimmers set a number of records, including Lisa Blackburn shattering a six-year-old Central American & Caribbean record previously held by a Cuban Olympic swimmer.
The final day of competition saw Ashley Yearwood win the Silver medal in the girls 15-17 50 meter butterfly, she is pictured below with her medal: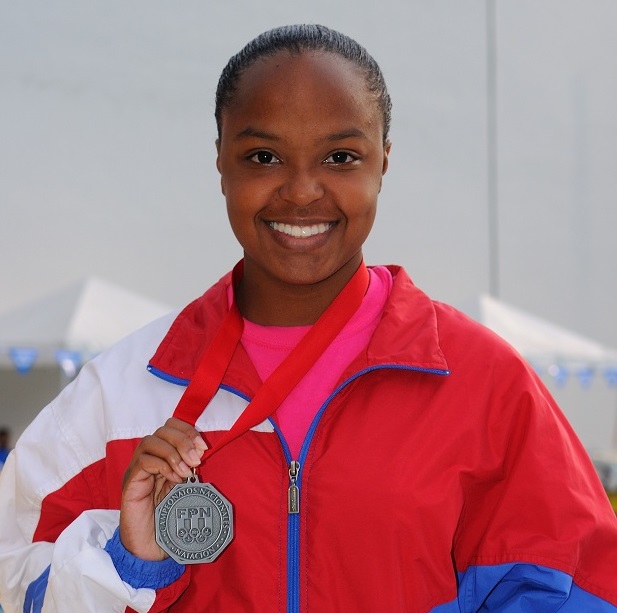 Ms Yearwood reached the final when she recorded the sixth fastest qualifying time of 30.09, in the final she touched the line second to win the Silver Medal – Bermuda's fifth medal of the championships. We spoke with her last night, and she expressed her excitement with winning a medal.
On the final day of competition, Nicholas Patterson qualified for the World Youth Games when he finished 11th in the Boys 15-17 50 meter butterfly, clocking a time of 27.14. He is pictured below in action in the pool: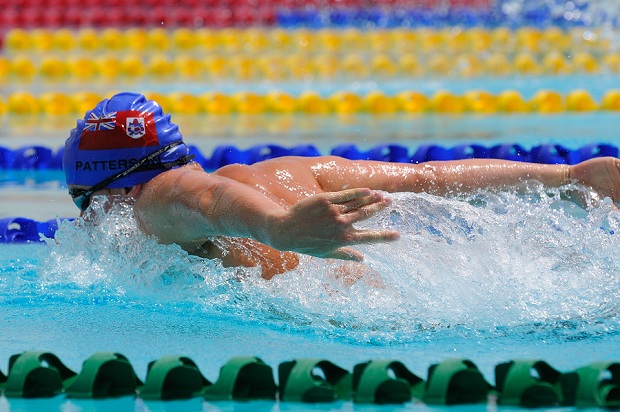 Also on the final day, Lisa Blackburn reached the girls 18 & over 50 meter freestyle final when she clocked 28.01, while Rebecca Heyliger just missed out on a final spot whenshe finished 9th in a time of 28.07. Jesse Washington finished 11th in the boys 11-12 400 meter freestyle preliminaries with a time of 5:03.07.
Ms Blackburn was the big performer of the Games, picking up four medals, all won in record setting style. Her first medal was a Silver in the 200m breastroke, her second medal was a Gold in the 200m individual medley, her third was a Gold medal in the 100m breaststroke and her fourth was a Silver medal in the 50m breaststroke. Each of Ms Blackburn's medals came in record setting style. We spoke we her last night, and she said went into the competition without expectations, and it came out "really well."
The CCCAN eligible member nations are Antigua and Barbuda, Aruba, Bahamas, Barbados, Bermuda, Cayman Islands, Costa Rica, Cuba, Dominica, Dominican Republic, El Salvador, Grenada, Guatemala, Honduras, Jamaica, Mexico, Netherlands Antilles, Nicaragua, Panama, Puerto Rico, Saint Lucia, Saint Vincent and the Grenadines, Trinidad and Tobago, and the Virgin Islands.
Read More About