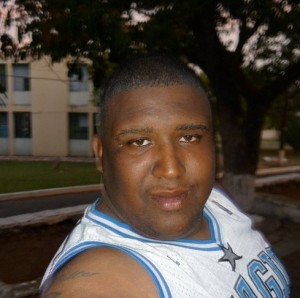 [Updated] The Bermuda Police Service yesterday [July 31] confirmed the death of 24-year-old Aaron Christopher Edness, a father of one who served as a Regiment Corporal and worked as a bouncer at The Beach on Front Street.
The statement said "Police can now confirm the death of 24 year old Aaron Edness who died on Friday July 29th."
"Circumstances are as follows: At 7:55pm on Friday first responders attended a medical emergency at a residence on Cottage Hill in Hamilton Parish."
"As a result Aaron was rushed to KEMH were he later was pronounced dead at 11pm by a hospital physician."
"Foul play is not suspected in the death of Aaron Edness and the Bermuda Police Service extend our sincere condolences to the family and friends of the deceased."
After Cpl Edness experienced trouble breathing his family assisted him, and a local nurse happened to be in the area and rushed to his aid.
Kim Trott-McKind, a Bermudian nurse who resides in the United States and was here visiting family for the holiday, ran down and performed CPR on Cpl Edness after someone had sprinted out and asked for help. Speaking with her today, Ms Trott-McKind expressed her condolences to the Edness family.
He was rushed to King Edward Memorial Hospital, where unfortunately he passed away leaving behind numerous devastated friends and family members.
Within hours of his passing, tributes began pouring in on the social network Facebook, with numerous 'status updates' dedicated to Cpl Edness. His personal Facebook page was filled with tributes and friends expressing their grief.
On his page – which still bears the blue/blue icon of a St. George's cricket fan – he describes himself as, "a cool guy who loves to have fun. Be it either, paintballing, jet skiing, reading, church, you name it I have probably tried it. Avid sports supporter (Magic, Eagles and Colts, Seminoles, Chelsea). And I am the world's greatest dad."
A friend of his posted a tribute poster on Facebook saying, "A Great Friend, Godbrother, Father, Son, Brother, No matter what you title was, you exemplified it to the best you could. Words can't even begin to fall out of my mouth about how I feel…..To everyone that knew Aaron, He was big in stature and physically, but he also had a big heart and a legacy that will live on."
Commanding Officer of the Bermuda Regiment Lt Col Brian Gonsalves said, "We were shocked to hear of Cpl Edness's untimely passing. Cpl Edness will be remembered as a fun, jovial and pleasant young man who was always keen to assist wherever he could and always wanted to do his best."
"As part of our Regimental Police (RP) unit, he enjoyed his time this past May with the US Marine Corps counterparts at Camp Lejeune and while there was an excellent ambassador not only of the Regiment but also for Bermuda."
"On behalf of the entire Regiment, I want to extend our condolences to Cpl Edness' family; he is part of our large family who will be surely missed."
Rick Olson, owner of The Beach where he was employed as a bouncer, said Mr Edness was a " fun loving jovial doorman dedicated hard working father, and its a tragedy to lose such a promising young life." Mr Olson also said The Beach will be doing a fund-raiser for Mr Edness' son in about a months time, with the details still to be ironed out.
The son of Ray and Sharon Edness, Cpl Edness was a big man in stature and described by many as a 'gentle giant.' He played rugby with the Mariners Rugby Football Club, and at yesterday's Non-Mariners Race, the entry from his rugby teammates carried a tribute to him across the side expressing the sentiments of many: 'Edness. Gone but not forgotten.'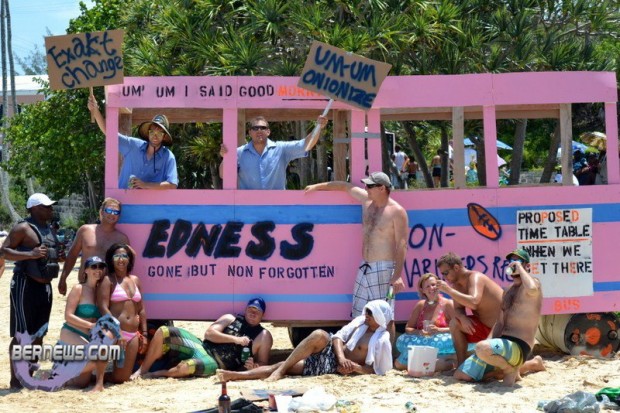 The Mariners RFC released a statement saying, "We are very saddened to hear about the sudden loss of Aaron Edness and send our love and deepest condolences to his family and friends at this extremely difficult time. Aaron was a great club member and a huge part of the club's family and spirit."
"Aaron always made an impact on and off of the pitch and was best known in the club for his trademark dance move "the worm", he was forever seen smiling and enjoying himself. The Mariners rugby family remembers all the times that he made us smile, and will be smiling for him today. Aaron was a dear friend to us all and will be greatly missed. We hope that he rests in peace."
Read More About