With the closing of Parliament for summer break, Leader of the One Bermuda Alliance [OBA] John Barritt has delivered his final speech before the legislature as Opposition Leader, and possibly his final speech in the House as an MP.
On May 17, 2011 at the press conference launching the OBA, Mr. Barritt indicated that he would serve as leader of the fledgling Party only until his successor was selected at the OBA's Leadership Conference – a period of four months.
Yesterday [July 31] Mr Barritt confirmed that nothing had changed, and said "I am standing by what I said in May; I will not be a candidate for leadership and that I am prepared to step down as MP and make way for the new leader if he or she is elected from outside the current elected group."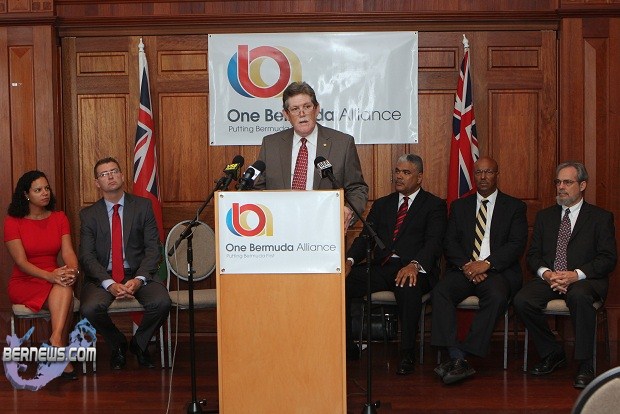 During the press conference Mr. Barritt said, "The OBA wants to be the agent for change, and that is reflected in how we've set up the party. Let me share with you an example of what I mean; an example of the commitment I am prepared to make for the change that is required: It was agreed that whoever became the interim leader should not be a candidate in the leadership convention, which should take place in four month's time. That is the role I'm playing."
"The leadership contest is open to anybody, and since the Bermuda Constitution says a party leader must have a seat in the House of Assembly, I have indicated that I am prepared to step down to make way for that new leader should he or she not already be a Member of Parliament."
Mr Barritt continued to say, "I have committed to this role because there can be no change without people willing to make change. That is my particular commitment to the One Bermuda Alliance and to change."
If this timetable is kept, it can be expected that the OBA will hold its first leadership conference in September of this year – at the latest. Sources indicate the OBA is expected to make an announcement about the date in coming days.
While there have been no formal announcements by candidates seeking to succeed the political veteran, former Bermuda Democratic Alliance [BDA] leader Craig Cannonier and former United Bermuda Party [UBP] leader Michael Dunkley are considered by many to be the front runners, and speculation also exists that Shadow Finance Minister Bob Richards may be contemplating a run for leadership.
With both front runners currently serving in the Senate and not elected to Parliament, a victory at the leadership conference by either of them would mean that Mr. Barritt could end up keeping his pledge made in May, and stepping down from his seat in the House of Assembly that he has held since 1993.
If the new OBA Leader is to be selected from the present elected representatives, the selection will be between: Shawn Crockwell, Dr. Grant Gibbons, Patricia Gordon-Pamplin, Donte Hunt, Louise Jackson, Trevor Moniz, Mark Pettingill, Bob Richards and Cole Simons.
Read More About