[Updated with video] The sailboat which was allegedly carrying a substantial amount of drugs plus a firearm was removed from the water today.
Earlier this afternoon [Aug.3] a crane arrived at the east end dock and hoisted the sailboat out of the water, and it was placed on a truck in the presence of both police and customs officers and transported away.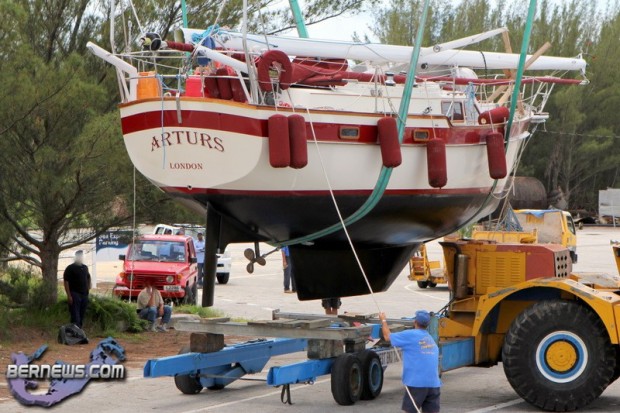 This past Monday [Aug.1] a large quantity of illegal drugs, plus a firearm and ammunition was seized from the sailboat, and a 28-year-old Latvian man was arrested.
Both customs and police officers swarmed McCallan's Wharf in St. George's on Monday afternoon, removing numerous bags from the sailboat and placing them into a van. The boat was subsequently guarded by police officers overnight.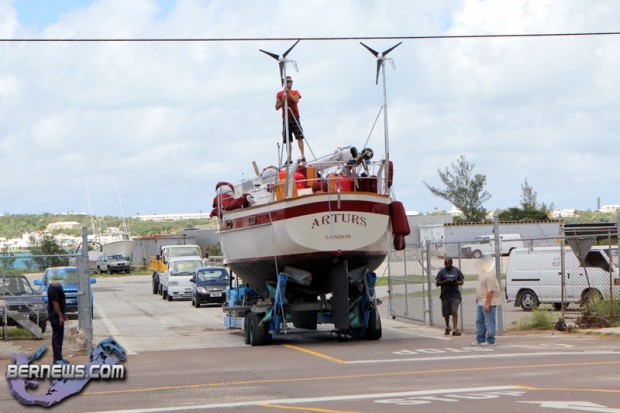 Yesterday a police spokesperson said their investigations suggest that the  illegal drugs were not destined for Bermuda. Officials said the man was actually traveling to Europe, and only diverted to Bermuda after experiencing mechanical problems with his boat. The Latvian national is expected to be make a court appearance in due course.
This is the second time this year officials have removed a sailboat from the water due to suspecions of it being used for drug smuggling, as in January 2011 the Carefree IV was hoisted from the water after it arrived from the Dominican Republic.
Read More About