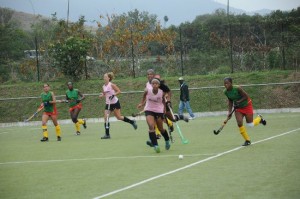 [Updated] Playing in Brazil, the Bermuda Women's National Field Hockey Team lost their third game in the 2011 Pan American Challenge Cup, being defeated 6-0 by Guyana today [Aug.3].
Guyana were up 3-0 at the half, and scored in the 40th, 42nd, and 67th minute to claim the victory over Bermuda.
After the match Bermuda team member Iman Smith said, "I think we are very disappointed. We went with our heads high and very confident and mentally ready for a better result this match."
"So our play was disappointing. We fought and at half-time we tried to forget the first half. And I thought we played better in the second half."
"We have lots of young players. This is my third tournament playing for Bermuda and it is a lot of pressure I must say. I look up to the older players and I learn something new each time."
"We were more into this game and more passionate and really gave it our all. And that's all I would really ask for," concluded Ms Smith.
Bermuda's Coach Dafydd Hermann-Smith said, "I think the players are most definitely disappointed. We had a plan and unfortunately Guyana played better. They [Guyana] came out the definite winners. This leaves us in a difficult position, but we have to look forward to playing Paraguay tomorrow.
"I think we are improving but we do not get to enough tournaments being on a tiny island. By the time we get to the next tournament all our previous tournament experience is gone."
The scorecard is below, click 'Fullscreen' for greater clarity:
The Challenge Cup is being held in Rio de Janeiro, Brazil, and ends on August 7th. Bermuda lost their first game 3-0 to Brazil, then lost their second game 6-0 to Uruguay.
Representing Bermuda in Brazil is: Captain LaKae Dill; goalkeepers Latonia Fray and Candace DeSilva; defenders Marcia Ford, Heather Sinclair, Kirsten Faria, Kristen Rego and Jasmine Patterson; midfielders Liz Stewart, Keishae Robinson, Iman Smith and Jennifer Chisnall; forwards Ryanne Bardgett, Erica Furtado, Raven Pearman, Alex Francis and Yvonna Osborne.
Read More About