Bermuda was well represented at the Captive Live USA conference in Chicago from September 26-27, 2011 which was sponsored by Business Bermuda.
Among those in attendance were Mr. Shelby Weldon, Director of Insurance – Licensing and Authorisations at the BMA; Mr. Peter Willits, President of Liberty Mutual Management and VP of BIMA; Ms. Janita Burke, Partner at Appleby Bermuda; Ms. Beverly Todd, Executive VP Insurance Management at JLT; Mr. Jason Carne, Partner, Insurance at KPMG; Mr. John Neal, President of Symphony Management; Ms. Trina Burch, AVP of Business Development, Relationship Manger at Butterfield; and Ms. Yelena Packwood, Marketing and Sales Executive at Business Bermuda.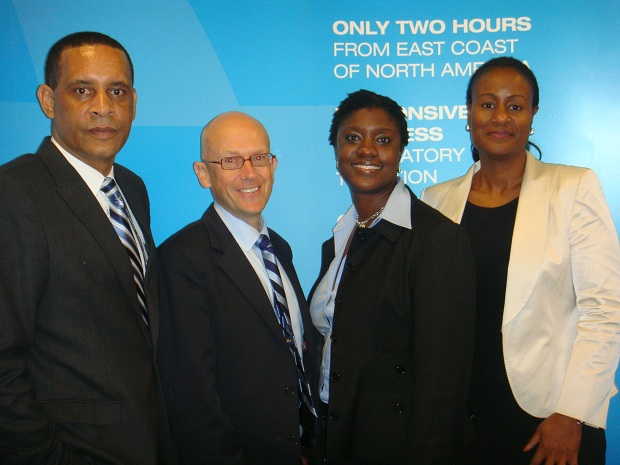 The main focus of this two-day conference, hosted by the well-respected publication, Captive Review, was to "raise awareness of captive innovations and facilitate 'outside the box' discussions on how captives can be further entrenched inside organizations, and help improve overall risk management practices."
Over 330 captive owners, service providers, and representatives of various jurisdictions added to diversity of attendees. Panel discussions on relevant issues regarding the captive industry, case-studies, and presentations accompanied the opportunity to continue and develop significant partnerships to remind those in attendance why Bermuda is the premier domicile for Captive Insurance.
"Several of the panel discussions have been very informative, and I am looking forward to pulling down the presentations and developing some business opportunities based on them," said Mr. Peter Willits of Liberty Mutual Management and BIMA.
"I think that the presentations have been very domicile neutral which was appropriate for this type of conference, and as Bermuda is the largest domicile in the world, we have been very well represented," he concluded.
Leaders in Bermuda's captive industry took part in a panel discussion on the topic of 'Bermuda and Canada: The growing relationship'. Panelists discussed the process, regulations, and benefits of domiciling in Bermuda not only for Canadian captive owners, but also for those all over the world.
The Bermuda advantage as compared to other popular domiciles was a major topic of interest, and panelists were able to prove Bermuda's competitive position in the captive market.
Ms. Janita Burke of Appleby Bermuda commented, "There was a great interest in Bermuda, and it was very encouraging to see the interest in Bermuda as a captive domicile. Attendees from Europe, the US, and Canada made inquiries about Bermuda as their choice of domicile, and a few were in the process of conducting feasibility studies."
"From the questions asked, it is clear that Bermuda as a market needs to continue to educate the world at large about Bermuda and its insurance and general international business offering. It was important to have Business Bermuda, a full complement of service providers, and the Bermuda regulator in attendance to immediately respond to queries."
As the regulator in attendance, Mr. Shelby Weldon of the BMA was continuously sought out to answer difficult questions and said, "I thought the conference was a first great outing for Captive Review in the US. It seemed to be well attended, and I spoke to a number of potential clients for Bermuda."
"It has been successful in that regard. Bermuda is a recognized jurisdiction so most of the conference participants were familiar with Bermuda. This proves Bermuda's reputation as a premier domicile. I have been well received particularly in terms of what Bermuda has to offer in the captive space."
Ms. Beverly Todd of JLT thought, " This conference was well attended for the first time out for Captive Review in the US, and the sessions were informative. I think that having the Business Bermuda and JLT booths help bring business into Bermuda and that the conference will be bigger and more beneficial to keep coming as the captive industry is still mostly comprised of US parent companies."
"It was clear from people I spoke to at the conference that Bermuda continues to be the offshore domicile of choice for US captives, and it was encouraging to speak with a number of Canadian risk managers and learn of their interest and excitement about using Bermuda as the preferred domicile for Canadian organizations," said Mr. Jason Carne of KPMG.
Going forward, it is very clear that Bermuda's position as a leader in the captive industry is firm. Bermuda is a well-regulated jurisdiction having comparable pricing, where, in many instances, costs are up to 50% lower than what is found in certain competing jurisdictions. As a true pioneer and innovator in the industry, conferences like Captive Live USA provide the unique opportunity to continue to promote Bermuda and spread the Bermuda message around the world.
Read More About