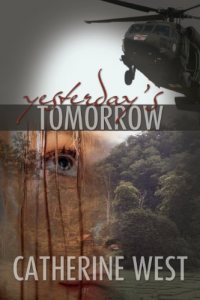 Bermuda author Cathy West is the subject of a glowing pen-portrait this week at a US website specialising in Christian fiction.
Mrs. West's debut novel "Yesterday's Tomorrow" – a love story set against the sound and fury of the Vietnam War — was published earlier this year.
Described as "beautifully crafted and thoroughly engaging" by best-selling author Deborah Raney, the story of two conflicted lovers in war-torn South East Asia has sold well both in Bermuda and is also available internationally at wesbsites including Amazon.com.
North Carolina critic Anne Payne — whose website reviews Christian fiction and conducts author interviews — spoke to Mrs. West about her background, her writing and her life in Bermuda.
"… I was born and raised here in Bermuda, where I still live," Mrs. West said. "I attended a boarding school in England for two years during high school, but hated it so much that I finished my education back home.
"I went to university in Canada. I married the first and only love of my life and we've raised two wonderful children.
"We're empty- nesters for the first time this year, so I'm adjusting to this new phase in life. Of course I still have my third baby, my very rambunctious border collie, Noah! When I'm not writing I'm most likely in the garden with my roses or going for walks with Noah."
Mrs. West is currently working on a second novel about a woman adopted at birth who attempts to seek out her birth mother — who does not want to be found.
The full interview with Mrs. West can be read here.
Read More About
Category: All, Entertainment