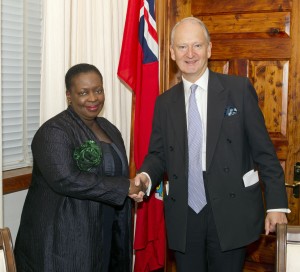 Premier Paula Cox is expected to represent Bermuda when future relations between the UK and the British Overseas Territories top the agenda at this year's consultative council which takes place next week (Nov. 23-24] in London.
Hosted by the Foreign Office's Overseas Territories Minister Henry Bellingham [pictured here with the Premier], the meeting includes leaders and elected officials from all of the UK's territories and will focus on Britain's strategy for the proposed 2012 White Paper on how the current status could develop.
The FCO Minister — who visited Bermuda earlier this year – told a Cayman newspaper much had happened since the last annual meeting but he was pleased that the UK had a clear plan on engaging with the territories.
"I am delighted that the UK Government has developed and agreed a clear strategy towards the Territories focused on increasing our engagement with them; working together to strengthen good governance arrangements, public financial management and economic planning, where necessary; and developing external support for the Territories," he said.
Mr. Bellingham will not be the only UK government representative as several of his coalition government colleagues will be attending next week's talks. The British Minister said this was a sign of the strengthening engagement of the whole of the UK government with the territories.
"I look forward to discussing with Territory leaders their ideas for the development of our partnership which will help us develop our thinking for the White Paper on the Overseas Territories that we intend to publish next year," he added.
There will be sessions on a wide range of subjects as well as the White Paper touching on such topics as aviation safety, good governance, criminal justice, economic development, and environment and climate change.
Aside from Bermuda, the United Kingdom has another 13 territories spread across the globe, the last of its former colonies which have not yet sought Independence.
The consultative council, held annually since 1999, is a forum for discussion of key policy issues between British Ministers and Heads of Overseas Territories' governments.
Read More About
Category: All