[Updated] Bermuda's Nahki Wells is due to make the first professional start of his career today [Nov.19], when his Bradford City team takes on Rotherham United in the U.K.
Bradford Coach Phil Parkinson made four changes to the side that started against Rochdale last weekend, with Bradford's website saying Nahki Wells was "brought into the side to form a new strike-force."
The 21-year-old former Dandy Town star has garnered plenty of attention lately after scoring two key goals, for two different teams, in less than three days. The two video clips of the goals have also attracted great interest online, having been viewed over 40,000 times already this week.
On November 12th Wells came off the bench and scored a blistering long distance shot that put Bradford City into the next round of the English FA Cup after they defeated Rochdale 1 – 0. Two days later, after flying to Bermuda, Wells took to the field with the Bermuda National Team and scored another long range shot to help Bermuda defeat Barbados 2-1.
Wells' first goal has been lauded by both coaches and media, with the local U.K press saying in an article today that his "wonder strike" has kicked off debate into the greatest Bantams goal ever scored
"The goal scored by Nahki Wells was something special; a strike to be treasured and recalled with relish however the season pans out from here.
"Even in such low-key surroundings as the FA Cup first round in front of an audience barely a third the size of the league average, we were treated to one of the best efforts at the stadium in years.
"You can talk about great defending, midfielders running box to box, keepers saving three penalties in a shoot-out. But nothing can eclipse a "worldy" goal – and the Bermudian's was in a class of its own."
Update 11.45am: The first half is almost finished, and the score is 1-1. Nakhi Wells is on the cover of Bradford's 'official match day magazine', which is available at the stadium in the U.K, and is pictured below.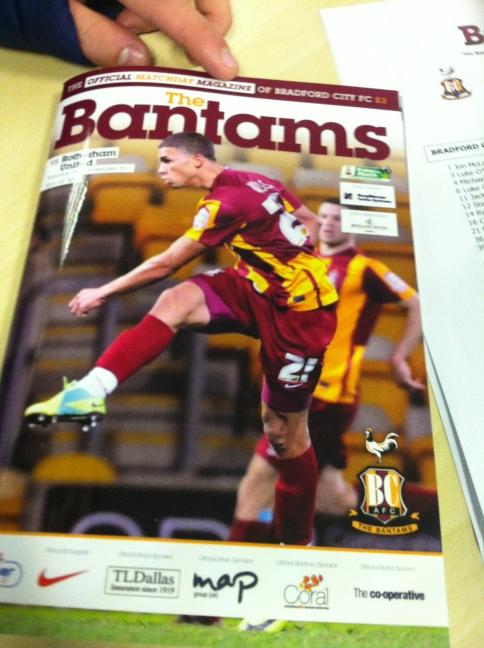 Update 1.30pm: Final score Bradford City 2 Rotherham United 3
Read More About