The One Bermuda Alliance held a press conference yesterday [Nov.18], responding to questions about their reply to the Throne Speech.
During the OBA's formal response to the Throne Speech, the Opposition had said while there was much to praise in the broad thrust of Government's legislative agenda for 2012,  the overriding question remains whether Bermuda's Government will follow through on its promises.
"It's a relevant question Mr. Speaker, because this Government has disappointed many," he said. "The gap between its initial promise and its record is significant and telling. This is a Government that became too comfortable in power."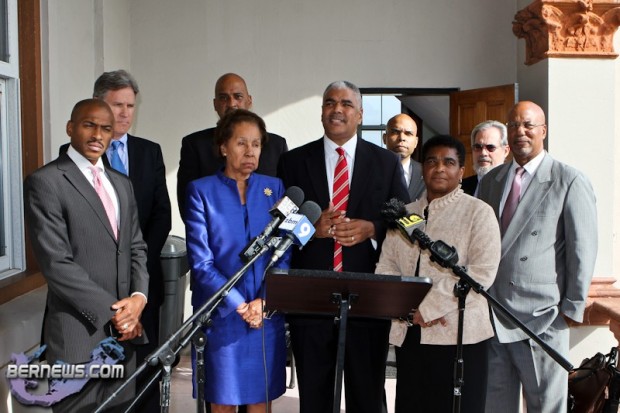 Opposition Leader Craig Cannonier spoke first, then Bob Richards replied to questions about the economy.
Asked about the possibility of an increase in the debt ceiling, Mr Richards said, "I expect that, there is no other way. I expect that to happen in February. As a matter of fact, I would not be surprised if it happens before February."
Shadow Minister of Government Estates & Information Cole Simons responded to questions about Walter Roban's recent resignation saying, "With good governance, one should lead by example.
"The reality is we have to be particularly careful that we don't have different rules for this country, rules for the people and rules for people in public places.
"Now the current Minister…obviously he resigns…did he resign or was he asked to resign, is the real issue. We believe on our side a few other people should resign and do the right thing, because he should not be left carrying the bag by himself," said Mr Simons.
Answering a question on education, Shadow Minister of Education Dr. Grant Gibbons said, "You have had a slew of different Ministers, you've had change at the civil service level, but I don't think you have had a consistent approach and a plan that they have been able to stick through.
"You need a consistent leadership and you need a plan that you follow through on, and it simply hasn't happened."
11-minute video of press conference:
Read More About