Bermuda CableVision is helping to lighten the financial burden of Christmas upon single-parent families through a donation of food baskets, complete with turkeys. Bermuda CableVision worked with local charity, Women's Resource Centre, to identify 20 families to receive the festive goodies.
Each December Bermuda CableVision makes a contribution towards helping a select group of Bermuda residents to celebrate Christmas. In 2011, the company chose those who, living on one income, are facing the challenge of feeding their family this holiday season.
From left: Rollin Nathan, Sales Manager and Terry Roberson, General Manager from Bermuda CableVision; Sherrie Outerbridge, Executive Assistant from Women's Resource Centre: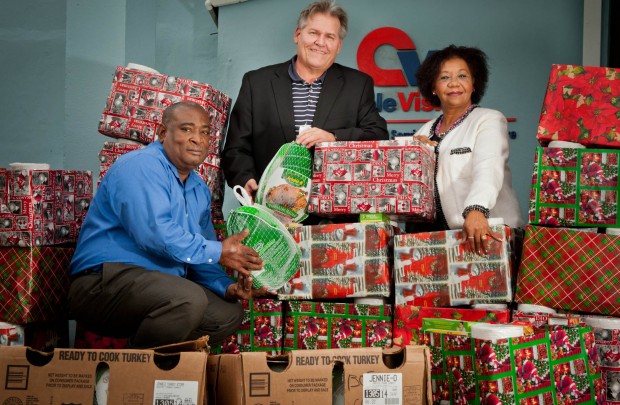 Terry Roberson, General Manager, Bermuda CableVision, explains: "Christmas should be a time of joy but, as we all know, it can also be an expensive and stressful time as we deck the halls, fill the refrigerator and hit the stores for gifts.
"We decided to reach out to single mothers this year with our Christmas donation. For them, making the festivities magical for their children can be an even greater financial challenge, particularly in this already tough economy."
Sherrie Outerbridge, Executive Assistant at the Women's Resource Centre, accepted the donation of behalf of its clients: "The focus of our work is providing confidential one on-one counseling, group empowerment, via our community programs and support services to women in Bermuda, helping them to navigate life's challenges, and access community resources.
"As we work closely with all of our clients, we know that at this time of year they also need extra support. We are grateful to Bermuda Cable Vision for recognizing and supporting us by donating items of need."
Bermuda CableVision has also extended the gift of a Holiday Free Preview for the enjoyment of all the family. Until 8am on January 3, 2012, Bermuda CableVision subscribers will be able to tune into the full range of its channels with the exception of HDTV and Pay-Per-View, at no additional cost.
For more information about Women's Resource Centre, please contact 295-3882 or visit: www.wrcbermuda.com.
Read More About
Category: All