Bermuda CableVision today [June 30] announced the results of the latest wave of its "Open Hands, Loving Hearts" food drive, saying that in partnership with Bermuda schools, the food drive has collected twelve full barrels – each weighing in at 300 – 400 pounds – of non-perishable food items for donation to local charities that run feeding programmes for Bermuda's less fortunate.
CableVision CEO Terry Roberson thanked all those who helped with the recent campaign: "We are so grateful to the children for participating with such steadfast commitment.
"They are demonstrating a deep understanding, early in life, of what it means to help your neighbour. We would also like to thank the parents and all the teachers and school officials who have assisted us in so many ways to make the food drive successful."
Rollin Nathan, Bermuda CableVision's sales manager and key organiser for the food drive, says, "Following on the success of our efforts last year, which included two family-oriented concerts to benefit the Food Drive, we were delighted to partner once again with Bermuda's schools over the past several weeks to collect an impressive amount of food to help re-stock the pantries of local charities and food banks. The children have shown that their hearts are in in the right place, and it is truly inspiring to see them participate with such generosity and love."
CableVisions' Rollin Nathan [centre] organiser of the "Open Hands, Loving Hearts" food drive, with Dexter Robinson [left] and Terry Battersbee [right] of the Eliza DoLittle Society.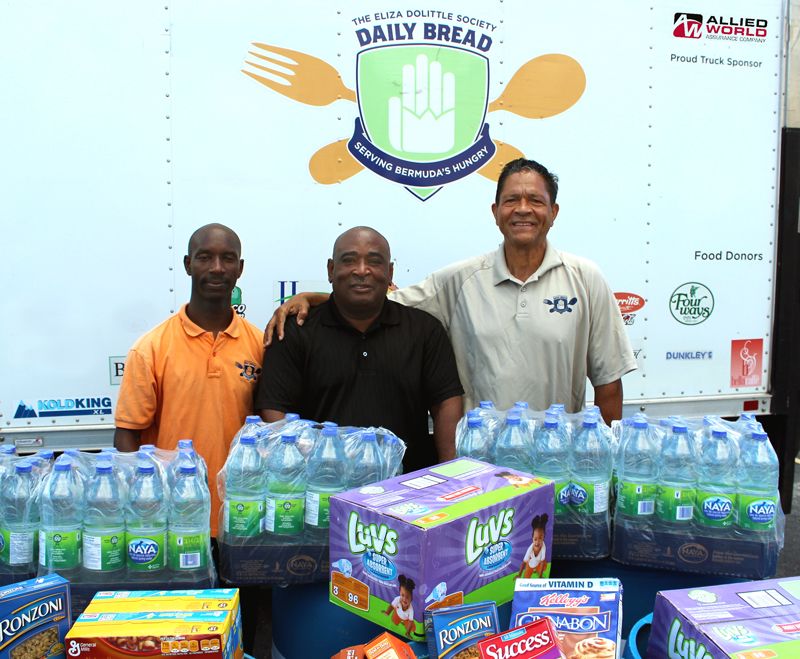 Bermuda CableVision launched its "Open Hands Loving Hearts" food drive in April 2013. Since then, dozens of schools and several businesses and churches across Bermuda have participated ­– along with the general public – and literally tons of food items have been placed in CableVision's "big blue barrels" around the island.
CableVision has distributed the twelve barrels of food collected since May to the Eliza Dolittle Society Food Bank, which was an early recipient of assistance when the food drive was first launched. The Eliza Dolittle Society Food Bank also works with other local organisations who are running feeding programmes, so the food reaches those most in need.
The schools that participated in this latest campaign are:
T.N. Tatum Middle School
Gilbert Institute
Francis Patton Primary School
Cedarbridge Academy
Harrington Sound Primary School
Paget Primary School
Sandys Secondary Middle School
West End Primary School
West Pembroke Primary School
Whitney Institute Middle School
Mount Saint Agnes Academy
Read More About