Bermuda CableVision is teaming up with the Bermuda Division of the Salvation Army to support the organisation's Christmas Toy Drive, an annual part of the Salvation Army Christmas Assistance programme.
CableVision stepped up to become Lead Partner for this year's drive, which provides toys for needy Bermuda children for whom the holidays might not otherwise include such gifts. Last year, the Salvation Army Toy Drive provided holiday toys to some 850 children, with a minimum of three toys per child. The goal is to reach even more children this year.
Bermuda CableVision is asking anyone who can afford to help to bring a new, unwrapped toy suitable for age 12 and under, to their Customer Care Centre in Washington Mall. Everyone who makes a contribution will receive a voucher worth $4 toward the purchase of a CableVision Video-on-Demand or Pay-per-View movie or event.
CableVision's Terry Roberson & Major Shawn Critch of the Salvation Army: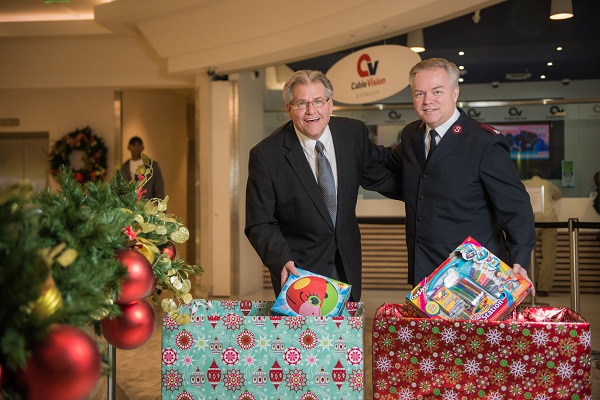 Terry Roberson, General Manager of Bermuda CableVision, says: "We are proud to support the work of the Salvation Army, an organisation that has done so much in Bermuda for those in need. The Toy Drive is an initiative that can really make a huge difference in the lives of children whose families may not be able to afford Christmas. That is why we are spreading the word as far and wide as possible so that people can experience the real joy of Christmas – doing something to help others."
"We are thrilled that CableVision has partnered with us in this way," says Major Shawn Critch, Divisional Commander of The Salvation Army in Bermuda. "Our shared commitment to the community will provide an opportunity to assist many children during this Christmas season and help to create memories that will last a lifetime."
Toys may be dropped off at CableVision's Washington Mall location Welcome Desk, from today through December 19. They will be distributed by the Salvation Army on December 20.
Read More About