Last week Premier Paula Cox received a copy of the National Museum of Bermuda's new book, "Hall of History: Bermuda's Story in Art."
The recently published book showcases artist Graham Foster's mural at Commissioner's House, Dockyard.
The large-format edition, features the unprecedented 1,000-square-foot artwork in 208 full-colour pages. The book also describes the artist's creative process to produce the mural – a feat that took him three-and-a-half years to complete.
On hand to present the book to Premier Cox at the Cabinet Office was Dr. Edward Harris, Executive Director of the National Museum of Bermuda, artist Graham Foster and author Rosemary Jones, who provided the text for the book: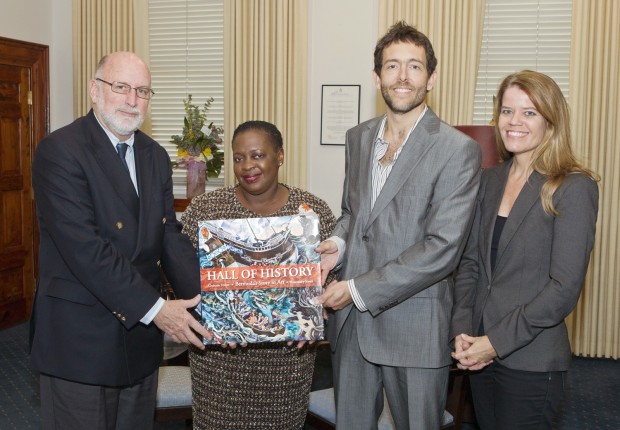 With text by award-winning Bermudian author Rosemary Jones, the 14-x-14 book brings alive the island's 500-year human history, from the Age of Discovery to the 21st century.
Every inch of the giant mural is reproduced, including graphic features of flora and fauna, historic and contemporary personalities, milestone events from Bermuda's past, plus nostalgic flashbacks and folklore.
Read More About
Category: All