Approximately 100 people turned up at the Warwick Workmen's Club last night [Jan.30] as the PLP hosted an open public meeting.
The panelists were Minister Marc Bean, MP Dale Butler, Senator Jonathan Smith, PLP candidate Lawrence Scott and Lt. Col. David Burch. All five panelists spoke for a few minutes, finishing at approximately 8.10pm, and then took questions from the audience.
Those in attendance included MP Walter Roban, MP Randy Horton, MP Alex Scott, PLP Chairman Anthony Santucci, Minister Michael Scott, Minister Wayne Furbert, Rolfe Commissiong, and Larry Scott.
Answering the first question about the court system, Minister Bean spoke on marginalization of fathers from children and personal responsibility that fathers must carry for their children.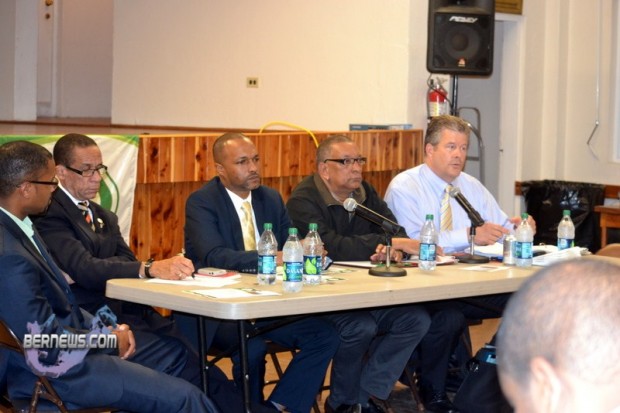 He said there is a need to review the laws, and in his observation and experience the "construct of family court is skewed towards mothers." Minister Bean went to say that some laws seem "anti-family," earning applause from the audience when he said "laws should enhance family, not divide."
Lt.Col.Burch also spoke on the topic, saying every man in the country can do something to help — whether they are fathers or not — through volunteering and mentoring young men.
He said if we look to solve crime "solely for enforcement, we will fail," which received applause from those in attendance. The former National Security Minister said legislation and punishment cannot entirely solve the gang problem, and that prevention is key.
Rather than "just weeping and wailing and giving an interview to the media after they are killed," those in the community should focus on helping young men who may be heading into a bad direction he said. The Colonel also noted that the vast majority of young people in the island doing really well.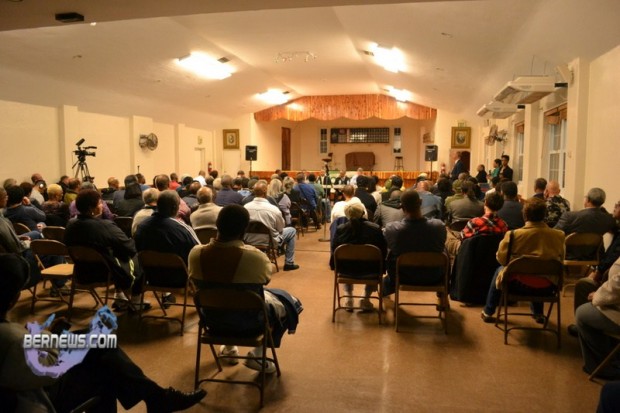 Another audience member spoke on the role of fathers in preventing young men from falling into a life of crime, earning applause on two occasions. Saying he himself is a father, he said  it seemed that some deadbeat dads had money to spend on themselves, while not supporting their children.
He said in his opinion some deadbeat dads have very nice cars, and called for men behind on their child support to not be able to register their cars at TCD.
He also said that they should be given a grace period and various warnings, and if they still fail to financially support their children their vehicles should be impounded and sold, with the money going to cover their child support debt. "We are in desperate time, and need desperate measures," he concluded.
Larry Scott spoke after that, saying he did not agree. He said those measures would be "punitive," comparing it to seizing a car if a small business owner falls behind on payroll tax. Mr Scott said although he was not on the panel, he could "not let the statement go without contrary opinion."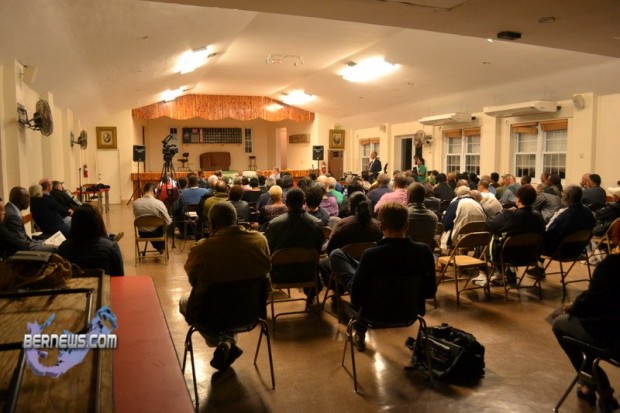 Another audience member addressed the issue of deadbeat dads, said it stems from black men being oppressed. He went on to say that husbands not being able to provide makes them "lose their manhood" and "causes family breakdown."
He also spoke about personal responsibility, saying that women have been carrying the weight and men have come up short, and called on men to "get it together."
He finished by saying that to address the gang problem we have to address the truth — the war on drugs has been a failure. Senator Smith replied, and speaking on the topic of legalizing drugs, he said people have to make sure their voices are heard.
He said legislators do what the people indicate they want them to do, so while one man saying drugs should be legalized may have no affect, many speaking may. The country needs to speak on issues that are important, he said.
He also said, that as mentioned in the Throne Speech, the sentencing framework for minor drug possesion will change due to young men being stop listed and having their educational opportunities restricted.
Senator Smith — the former Police Commissioner — also said that there are approximatly 600 gang affiliated people [mostly men] and that we in the community vastly outnumber them and can all lend a hand to help prevent and deal with crime. "It's a 99 to 1 issue," he said, going on to speak about intervention and prevention.
The Senator also said that there is new legislation to target gangs, and that the police have been targeting gang members, many of whom are now sitting in prison. He said while there is clearly a significant amount of work to do, legislation and targeted police efforts have made an impact
At 8.55pm each panelist gave a one minute summary to end the evening.
Read More About