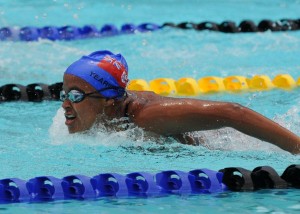 Bermudian swimmer Ashley Yearwood helped her school Baylor win the Nike Swim Winter Invitational in Chattanooga, Tennessee this past weekend [Jan.14/15]
Yearwood took part in a total of six events, never finishing outside the top five, and winning a Gold Medal in the Girls 50 Yard Freestyle.
Swimming in the Girls 200 Yard Freestyle, Yearwood was clocked at 2:00.96 finishing third. She then finished fifth in the Girls 200 Yard Backstroke clocking 2:12.60.
Yearwood placed 5th and finished in a time of 1:04.80 in the Girls 100 Yard Butterfly, which was followed by a third place finish in the Girls 200 Yard IM with a time of 2:13.86.
In the Girls 100 Yard Backstroke, Yearwood placed fourth in a time of 59.72, and then came her best finish of the Meet when she won the Girls 50 Yard Freestyle in a time of 24.75.
- File photo by Doug Patterson
Read More About