[Updated] This morning [Feb.24] Premier and Minister of Finance Paula Cox will deliver the 2012 Budget in the House of Assembly. She is expected to leave the Cabinet Office at approximately 9.30am, and make her way to the House where she will deliver the Budget – setting out Government's financial goals and expectations for the following year. Tune in below for live updates, and for all our budget coverage from today click here.
The latest updates will be posted on top, press your "F5″ key to refresh:
Update Feb.25: Mailboxes Unlimited president Steve Thomson said it is a "sad day for the consumer in Bermuda," following the news that duty at all ports of entry will be 25%. His full statement is here.
Update 11.30pm: Videos of some post-budget statements added: Economy & Industry Minister Patrice Minors here, Public Works Minister Michael Weeks here, Environment & Planning Minister Marc Bean here, Estates Minister Michael Scott here, National Security Wayne Minister Perinchief here, Education Minister Dame Jennifer Smith here, Health Minister Zane Desilva here, Minister Glenn Blakeney here, Business & Tourism Minister Wayne Furbert here, and Transport Minister Derrick Burgess here.
Update 8.10pm: UBP MPs Kim Swan and Charles Swan issued an additional statement, which is posted here.
Update 6.05pm: Bermuda space and seabed assets could be used to raise revenue, Minister of Government Estates and Information Services Michael Scott said today. His full statement is here.
Update 5.29pm: A further statement from Shadow Minister of Finance Bob Richards is here.
Update 5.16pm: A response to the Budget from the Association of Bermuda International Companies [ABIC] is here [1 page PDF]. ABIC said they are pleased to see payroll taxes will be maintained at last year's levels with modest fee increases on other items limited to 3%, but cautioned that "meaningful deficit and debt reductions can only be achieved with tangible improvements in new revenue sources as well as providing increased certainty to our existing business partners."
Update 4.36pm: A response to the Budget from Sir John Swan and Larry Burchall is here [2 page PDF]. They note "Government is planning to spend $1,081,700,000 while projecting revenue of $909,634,000. That leaves a shortfall of $172,100,000," and said "Borrowing of this kind is a short-term stop-gap. Bermuda's economy is in substantial contraction. It cannot be sustained."
Sir John also said, "On a personal note, as I recommended that Seniors pay land tax and vehicle registration above a particular ARV and class, I am glad to see its implementation by Government and will be happy to write my cheque in both instances and make my contribution to the economy."
Update 4.32pm: 11-minute video of the reaction to the Budget from the Chamber Of Commerce below, written statement is here.
Update 4.28pm: The remarks made by Minister of Economy, Trade and Industry Patrice Minors at today's post Budget Press Conference are here [2 page PDF], and the remarks by Minister of Health Zane Desilva are here [5 page PDF].. The proposed 2012/13 budget for the Ministry of Health is $190.98 million, which is a 10.9% increase on the base budget from the previous year.
Update 4.11pm: The initial reaction from United Bermuda Party Interim Leader Kim Swan is below. He said the Budget was "more of a rhetorical presentation" as it had a lot of "well sounding words".
Update 3.45pm: Public Works Minister Michael Weeks said the Ministry is getting 8 new garbage collection vehicles in May 2012, and said "the delays or uncollected garbage evident in our neighbourhoods from time to time should be a thing of the past." The cost is $150,000 per vehicle. His full post-budget statement is here [6 page PDF].
Update 3.40pm: The budget for financial assistance [including child day care allowance] is $39.8 million.
Update 3.19pm: $500,000 has been allocated for extended CCTV networking, Minister of National Security Wayne Perinchief said. His full statement on his Ministry's budget is here.
Update 2.51pm: Short video with the initial reaction from Opposition Leader Craig Cannonier and Shadow Finance Minister Bob Richards, who said he was "very disappointed."
Update 2.37pm: Environment, Planning & Infrastructure Minister Marc Bean's post-budget speech is posted here. . $483,000 will be dedicated to the development of a shore side facility for the processing of fish.
Update 2.15pm: A few of the key points from the Budget are posted here.
Update 1.45pm: The press conference is over. A 22-minute webcast replay of the Premier's speech is below, use the bottom bar to 'fast forward':
Update 1.45pm: A 60-minute webcast replay of the Ministers speaking and the Q&A is below:
Update 1.02pm: The press conference continues, video still playing below. The National Economic Report of Bermuda 2011 is here [27 page PDF].
Update 12.06pm: The Premier and Ministers are about to host a press conference at the Cabinet Office, live video below [removed see replay above]
Update 11.54am: Deloitte released a 'Budget Snapshot', details here.
Update 11.15am: A full copy of the 2012/13 Budget is here in PDF form.
Update 11.00am: The House is adjourned
Update 10.57am: The Premier concludes speaking, and the House is moving onto other business.
Update 10.54am: The Premier appears to be starting to wrap up the speech, saying she has "highlighted" some of the fiscal measures. She thanks everyone who "joined in the Open Budget process"
Update 10.52am: A "National Security Council" is being formed – with the Governor, Police Commissioner, Premier, Attorney General etc. "Making Bermuda safer is the goal," the Premier said.
Update 10.51am: The arrivals area at the Airport will have a 'channel' system, with a "nothing to declare" line.
Update 10.50am: "Significant sums" have been allocated to the police. The Xray facility on the Hamilton Docks will be put in place this year.
Update 10.46am: Government will remove the stamp duty on transferring mortgages from one bank to another. Ferry and bus fares will remain the same. The Mirrors program will continue. There will be a renewed emphasis on job creation and job training programmes. The Bermuda Job Training Replication Programme will be run in conjunction with the private sector and aimed at 16-to-24 year olds.
Update 10.42am: The Government's new debt to GDP ratio will be 24%, and the new debt ceiling will be 1.45 billion.
Update 10.40am: Quick video of the Premier arriving this morning:
Update 10.31am: Premier says "debt is neither good nor bad".The budget totals $1.08 billion for the 2012/13 fiscal year. Government plans to cover shortfalls in revenue by launching another Bermuda bond issue in the near future.
Update 10.28am: Revenue estimates for 2012/13 are $909.6 million – down three percent on last year. Revenue from payroll tax has declined by $39 million
Update 10.27am: Airport duty is going back down to 25%. Duty on tobacco will be raised, hoping to raise $1 million dollars.
Update 10.26am: Seniors with houses with ARV over $50,000 [a value of approximately $1 million] will now  have to pay land tax. Seniors with larger cars will have to pay to a licence fee, as it is said the exemption has been abused. This will gain an estimated $3 million in licence fees, she said.
Update 10.25am: The island's Pension Act will be amended, allowing for a voluntary suspension of pension contributions in the hope some of these monies will be spent, stimulating the economy.
Update 10.23am: Speaking now on "worrying violence," the Premier said Sandys 360 will get a $2 million grant – some smattered applause from MPs could be heard after she said that.
Update 10.20am: The Premier said Government will continue to do the right thing and make sound decisions. "Job preservation and expansion is a central theme in Government's financial plan," she said. Hotel payroll tax concessions have been extended she said.
Update 10.17am: Premier Cox said the effect of certain austerity measures suggested by others would have been "devastating'. She said the Finance Ministry thinks the economy will remain "weak" this year.
Update 10.15am: The Premier said Government actions such as tax rollbacks have saved "thousands of jobs." She said the cost of Government's measures was $98 million, which was added to our debt. "Government did the right thing," she said.
Update 10.13am: The Premier is speaking of the world economic conditions, saying as we are "part of the global economy" we have been affected. She said Bermuda's economy has declined since 2008.
Update 10.10am: The Premier has begun delivering the budget, saying "the 2012/13 Budget is focused intently on doing the right thing for Bermuda's people and business."
Update 10.08am: The Premier has asked that copies of the 2012 Budget be given to the MPs
Update 10.03am: The House is now in session
Update 9.45am: The Premier just arrived at the House of Assembly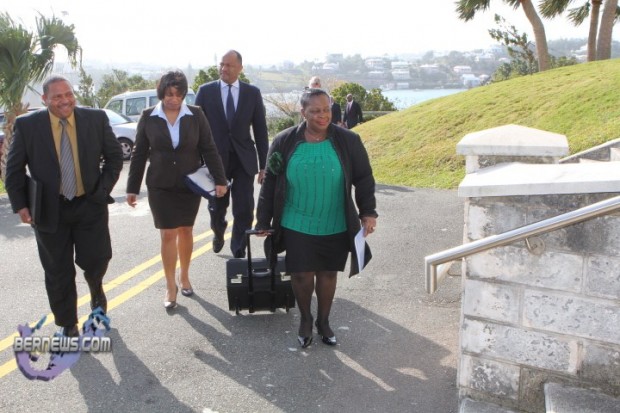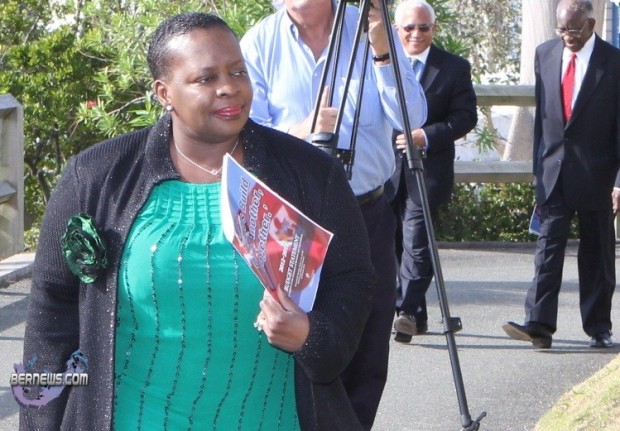 Read More About