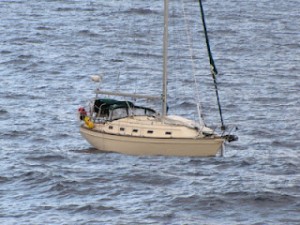 A sailboat abandoned during an ill-fated Atlantic yacht rally to Bermuda was spotted drifting in the Atlantic yesterday [Mar.14].
The Holland America cruise ship "Prisendam" came across the "Triple Stars" drifting on the high seas [a passenger took this photograph of the yacht].
American Rob Anderson was rescued by the tanker "High Jupiter" on November 11 after his cruising sailboat "Triple Stars" ran into stormy seas during a race from Rhode Island to Bermuda.
His wife Jan had earlier been swept overboard approximately 285 miles northwest of Bermuda.
"We were hit by a 30 foot wave," Mr.Anderson told the US Coast Guard after he abandoned his 38-foot yacht. "My wife went through the bimini top and I saw her floundering in the water, there were 25 foot seas and I threw her a life ring which she grabbed onto, but when I brought the boat around, I saw her go under and not resurface."
The North American Rally To The Caribbean [NARC] regatta — sailing from Rhode Island to Bermuda and then on to St. Martin — was disrupted by gale-force winds and stormy seas produced by a week-long low-pressure front which developed into Tropical Storm Sean.
Aside from "Triple Stars", another vessel in the NARC fleet was abandoned on the high seas, its crew rescued by the Bermuda freighter "Oleander" while a third yacht participating in the regatta had to be towed into St. George's harbour.
The regatta — which got underway on October 30, 2011 — was open to veteran offshore sailors and professionally crewed boats.
A passenger aboard the "Prisendam" reported on his blog today [Mar. 15]: "["Prisendam" captain] Halle Gunderson announces over the loudspeakers that we spotted a sailboat adrift out there in the limitless expanse of a peaceful blue shiny ocean. 'Prinsendam' stops, we approach at dead slow, we circle the little boat … 'Triple Star', from San Francisco, it says on the stern …. The boat floated, intact, all in one piece.
"But the dishevelled state of the deck showed, that no one had walked those planks since a while.
"We circled a while, almost touching distance, blew the ship's whistle (it does wake the dead) but no response. Captain Gunderson had contacted the Bermuda Coast Guard via radio, and announced, that they were aware of 'Triple Star' drifting around. So, nothing else to do but let her drift on on her sad lonely journey across the waves until someone picks her up and tows her … somewhere.:
Read More About
Category: All