The Bermuda Bicycle Association's Winners Edge Bermuda National Mountain Bike Championships took place this weekend [Mar.25] at Ferry Reach.
Dominique Mayho and Karen Smith are the 2012 National Mountain Bike Senior Male and Female Champions while Daniel Oatley and Gabriella Arnold are the 2012 National Mountain Bike Junior Male and Female Champions.
Men's Champion Dominique Mayho is pictured below photo courtesy of John Narraway: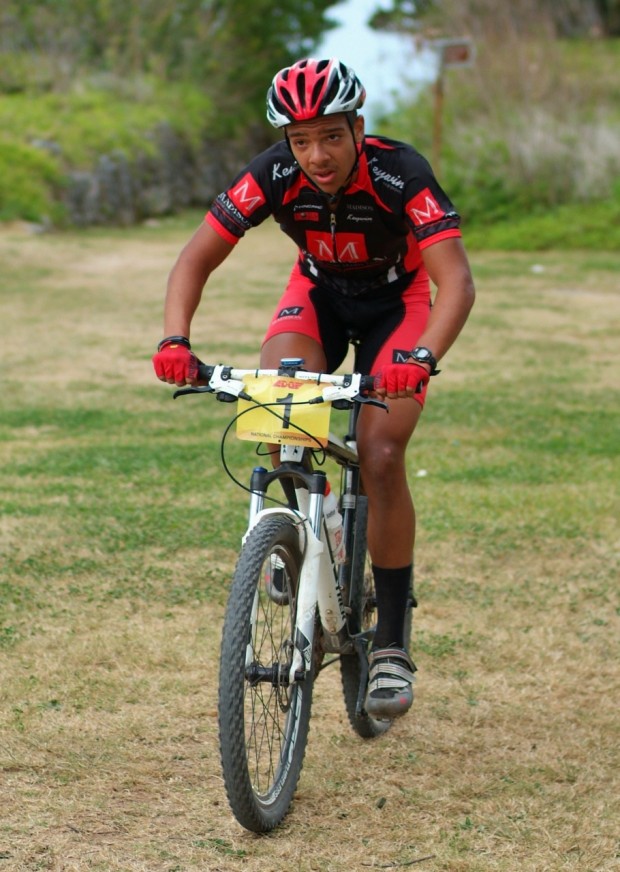 In the Male Open Race, Mayho once again proved his dominance as he raced away from the field to go through the entire Mountain Bike Race Season with losing a race. Mark Hatherley finished second and Kent Richardson finished third, Dexter Swan saw the fourth competitor to cross the line, while Peter Dunne rounded out the top five finishers.
Smith won the Female Open race to take the Title, with Earlena Ingham finishing second and Sarah Jordan finished third.
Oatley held off a strong challenge from Deshi Smith to win the Junior Male Championships, while Anthony Rico Smith finished third.
Arnold claimed the Junior National Championship title after crossing the line ahead of Elizabeth Jordan.
Male Open
1 Dominique Mayho – National Champion
2 Mark Hatherley
3 Kent Richardson
4 Dexter Swan
5 Peter Dunne
6 Hans Hirschi
7 Macio Talbot
8 Mannard Packwood
9 Scott Mello
10 Paulo Medeiros
11 Brian Steinhoff
12 Tre'-shun Correia
13 Clifford Roberts
14 Dnarte Lima
15 Kareem Johnson
16 Barry Brewer
17 Duncan Simons
18 Chris Roque
19 Gary Joel
20 Kyle Smith
21 Philando Hill
22 Kyle Constable
23 Lou Matthews
24 Nelson Pimentel
25 Ian Fox
26 Chris Smith
27 Chequan Richardson
Female Open
1 Karen Smith – National Champion
2 Earlena Ingham
3 Sarah Jordan
Junior Male
1 Daniel Oatley – Junior National Champion
2 Deshi Smith
3 Anthony Rico Smith
4 Daniel Hetzel
Junior Female
1 Gabriella Arnold – Junior National Champion
2 Elizabeth Jordan
Junior 13-16 Male
1 Robin Horsfield
Junior 13-16 Female
1 Jessie Godfrey
2 Tristan Narraway
Junior 12 and Under Male
1 Matthew Oliveira
2 Alex Bordage
3 Christian Roque
4 Manning Smith
Junior 12 and Under Female
1 Alyssa Rowse
2 Laura Hope
Read More About