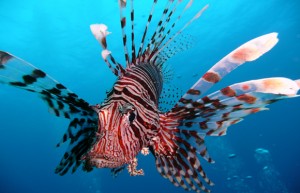 The threat posed by the invasive lionfish to marine resources in Bermuda and the West Indies was a topic of discussion at the recently concluded Caribbean Fisheries Forum.
The three-day meeting — which was held in Nassau — drew delegates from throughout the Caribbean as well as fisheries experts from Bermuda. Wrapping up on March 28, the conference was held under the auspices of the Caribbean Regional Fisheries Mechanism [CRFM] — an inter-governmental organisation with the mission to "promote and facilitate the responsible utilisation of the region's fisheries and other aquatic resources for the economic and social benefits of the current and future population of the region".
CRFM executive director Milton Haughton said the invasive Pacific lionfish was an issue of major concern.
"In only a few years this invasive species has spread across the entire Caribbean causing untold negative impacts on local fish stocks and marine ecosystems," he said.
Lionfish are an invasive species in the Western Atlantic and are likely to cause widespread economic and environmental harm.
Triangle Diving video of lionfish cull on Bermuda's reefs
Originating in the Indo-Pacific Region, it is believed they were introduced into the Atlantic in the late 1980s by local aquariums or fish hobbyists in Florida.
They have now spread throughout the Caribbean, Gulf of Mexico, South America and as far north as Massachusetts and Bermuda.
Lionfish are indiscriminate predators, preying on species which are commercially, recreationally and ecologically important
It has been demonstrated that lionfish — which can eat up to 30 times their own stomach volume — are able to reduce juvenile fish populations on a reef by nearly 90 percent in as little as five weeks.
Lionfish have no known predators in Bermuda waters so their population can increase exponentially.
Increasing numbers of lionfish have been found on Bermuda's reefs in recent weeks but just this week a specimen was caught in Harrington Sound.
"Harrington Sound is a hatchery — it's a place where juveniles grow up," Graham Maddocks of the Ocean Support Foundation told the "Bermuda Sun", saying the discovery was a worrying new development.
"It seems the bio-mass of the lionfish could be growing enough to where they are coming into shallower waters instead of sticking to the deep water as we have seen before. Anyone who sees a lionfish should contact the Ocean Support Foundation and we will come and collect it."
Read More About
Category: All, Environment