Team Bermuda has earned a day off after reaching the half way point of the 2012 IODA South American Championships in Argentina. Eight fleet races have been completed over 3 days, and youngest team member Mikey Wollmann is the top Bermudian in 30th place, having secured 3 top ten finishes in the 8 races sailed.
Next is Chase Cooper in 58th place followed by Rory Caslin in 60th, Ceci Wolmann in 90th and Benn Smith in 117th in his IODA event debut. 160 sailors from 17 countries have been battling each other under sunny skies and light winds on the River Plate, just north of Buenos Aires, Argentina.
Photo of Mikey Wolmann in action by Mattias Capizzano: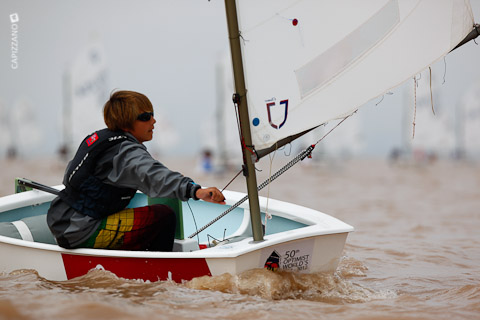 Romain Screve and Sean Brennan from the USA are sailing well and are leading the fleet with a good margin. Irina Pieyrua from Argentina has sailed consistently as well and she sits in third place and is the top girl.
Wednesday brought better breeze for the Team Racing event. Bermuda competes in the Nations Cup along with the other non South American countries. Bermuda ended up in 4th place after beating Ecuador, Mexico and Uruguay but losing twice to Team USA. Coach Martin Jenkins thought the group sailed well and showed much promise.
Thursday is a lay day followed two more days of fleet racing on Friday and Saturday.
Read More About