Jillian Terceira will make her second Olympic appearance, with the Bermuda Equestrian Federation confirming this afternoon [June 22] that she was selected to compete in the 2012 London Olympic Games.
A BEF spokesperson said, "The Bermuda Equestrian Federation is pleased to announce the FEI world governing body for equestrian sport has confirmed that Jillian Terceira has reached the qualifying standard for Olympic Games 2012 in show jumping on two horses Lakvels and Bernadien van Westuur
"This information has been passed on to the Bermuda Olympic Association with a recommendation that Jillian be approved to represent Bermuda in London in August. The selection is subject to discussion by the BOA when the final team will be approved by the BOA General Assembly on 5th July 2012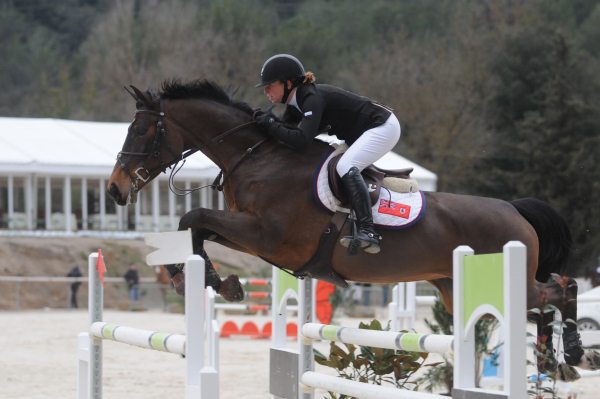 "Jillian competed on Bernadien van Westuur at the Pan American Games held in Mexico last October and has continued to compete in Europe through the season this year and has successfully brought on Lakvels as a second horse option.
"Jillian represented Bermuda in the Olympic Games in 2008 when the equestrian events were held in Hong Kong. Mr Paul Pereech has been recommended by the BEF to act as the Chef d'equipe for the equestrian events in London."
Ms Terceira and Patrick Nisbett were in contention again this year for the lone show jumper spot granted to Bermuda for the Olympics. In 2008, both equestrians were eligible for the Beijing Olympics Games and Mr Nisbett was selected, however he was unable to compete as his horse sustained an injury, and Ms Terceira represented Bermuda at the Games.
The Olympic Games start on July 27, and the Bermuda team will be officially announced next month. The athletes that are scheduled to join Ms Terceira in representing Bermuda at the Olympics include Tyrone Smith and Arantxa King in track and field, Tyler Butterfield and Flora Duffy in the triathlon, Jesse and Zander Kirkland in sailing, and Roy Allan Burch in swimming.
In addition, Jessica Lewis has qualified in the 100m, 200m and 400m for the 2012 London Paralympic Games, while Bermudian Jenaya Wade-Fray has been selected for Great Britain Women's Basketball Olympic squad.
Read More About