Part time Bermuda resident John "JBL" Layfield recently attempted to climb Europe's highest mountain, with the aim to plant both a WWE and Bermuda flag at the summit.
Mr Layfield, best known as a former WWE professional wrestler, entrepreneur and host of the Fox Business Network's "Cashin' In" programme, helped found the charitable Beyond Rugby Bermuda organization to benefit children on the island.
Recently honoured for his work in Bermuda, Mr Layfield's latest effort is the "Seven Summits Bermuda Challenge" in which the 45-year-old athlete will be attempting to plant a Bermuda flag on the top of the highest peak of every continent in an effort to raise money for kids in Bermuda through the Family Centre.
He started out trying to climb the highest mountain in Europe — Mount Elbrus located in Russia — however had to turn back right before reaching the summit due to weather conditions creating a safety hazard.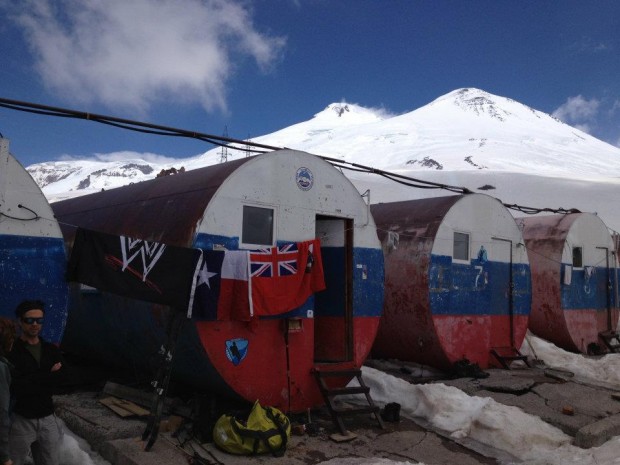 Speaking after his recent trip, Mr Layfield said: "I had three goals in trying to climb the highest mountain in Europe, 18,511 feet high Mt Elbrus. I wanted to raise money for the kids I work with daily in Bermuda (Beyond Rugby Bermuda), I wanted to plant a WWE and Bermudian flag on the summit and I wanted to not die. I accomplished two out of the three.
"I'm 45 years old and have had a broken back, four knee surgeries and two herniated discs-so I knew this would not be easy. But, we tell our kids daily that everyone has problems, it's what you do with what you have that matters. I wasn't just raising money for the kids; I was doing my best to set an example. We all have mountains to climb, mine ahead of me were just literal."
Mr Layfield trained for over half a year for Mt Elbrus, and had gotten to where he would do a stair master up to three hours straight. He and his team flew to Moscow, and made their way to the Baksan Valley which is located just north of Georgia and next to Chechnya.
After arriving Mr Layfield saw they took two climbs from base camp and the second to over 15,000 feet to finish their acclimatization. "The second climb was about eight hours and though hurting I made the climbs in good form, I felt great about summit day," said Mr Layfield.
The actual day arrived, and the team set off in their quest to reach the top of the mountain. "After climbing for 7 ½ hours we were at the beginning on the "saddle' between the mountain's two peaks. I can't describe the effort these 7-½ hours took to climb," said Mr Layfield.
"We stopped for lunch and I discovered that my lunch had somehow been squished and ruined. However, we were only about 1,000 feet from the summit-though that 1,000 feet would take 4-5 hours. It looked so close.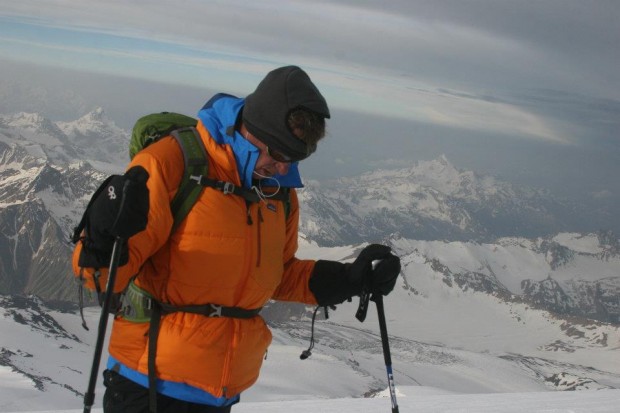 "Vladimir had gotten concerned by the weather and was warning us we might have to turn back but now he was adamant. He told us, correctly, that if we continued that we would be caught up by what turned out to be a huge storm. I did not want to turn back, at all.
"We were so close and I had worked so hard, to turn back now was something that didn't even seem realistic. The summit was so close you could almost touch it.
"Chris reluctantly had agreed with Vladimir. Chris is a mountain veteran who hated to give up on the summit, I was climbing for my kids and the thought of turning back was so hard to digest. However, we finally all agreed that we ran the risk of being stuck on the mountain if we continued. And, my third goal of not dying would have been put in jeopardy.
"I just sat there for some time looking at the summit and thinking of the support that the WWE had given me and the greater goal of helping kids that need it. It was one of the saddest moments of my life," Mr Layfield continued.
"We turned back. Chris and I both were totally out of gas. Climbing down is almost as hard as climbing up; the snow had softened so we sank into the snow on most steps. At one point we sat down and slid down part of the mountain. Vladimir was helping me so much; Chris' guide Albert was helping him as well. I don't ever remember being that spent.
"At one point Vladimir had me take off my crampons and harness and we slid roped together down the mountain with Vladimir behind me to help put on the brakes as we got too fast.
"We made it down at 2pm, half a day after we started. The storm was now setting in and Vladimir was right in his warning and advice. There is a good chance that we could have been in dire trouble if we had continued; we could have easily been stuck on the mountain.
"The storm has closed the mountain and so there is no hope of another summit attempt-I will have to return next summer. My lips bled badly this morning (from exposure) as I tried to brush my teeth and my blisters are so bad I can't wear shoes, but everything I have wrong is temporary and I just had the wildest week of my life and loved every second of it.
"I did get a great pic with the WWE and flag at over 17,000 feet and got a pic with the Bermuda flag for my kids (and to say thanks to the government there for the support they give our program and to our partner The Family Center).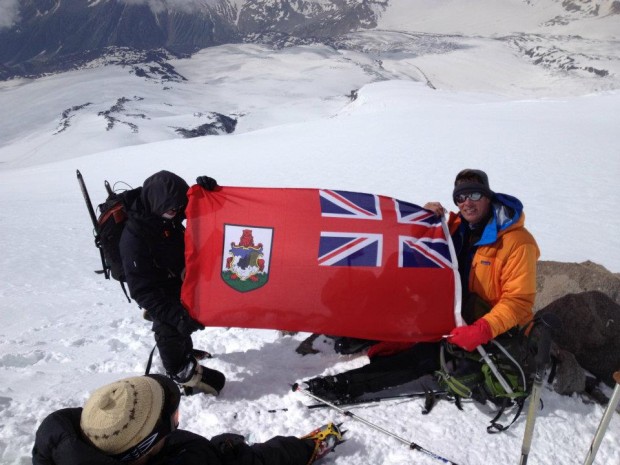 "I have Kilimanjaro scheduled next in September. My feet will be better than and I will have a couple more months of training and the experience of being at altitude. I plan on making the mountain and then it's to South America and then to Antarctica all by January. I have Mt Everest scheduled for spring of 2014.
"I tell my kids you can only control what you can control and you can't worry about what you can't. I can't control the weather, but the mountain didn't break me, so I'm getting geared up for round two. I still plan on making the Seven Summits but realize now why only a few hundred people have ever done it, these are world-class mountains.
"Most importantly I have my WWE and Bermudian flag all packed and ready to go to Africa for round two. We are only just beginning," finished Mr Layfield.
- Photos via John Layfield, see here on BeyondRugby's website for more information.
Read More About