Bermuda's Olympic sailors Jesse and Zander Kirkland took to their home waters this weekend while on their pre-Olympic break to help nurture the next generation of Bermuda's skiff sailors.
The pair held a clinic based out of the RHADC with nine sailors between the ages of 15 and 20 years of age. Dimitri Stevens, TreMayne Bean, Mackenzie Cooper, Kalin Hillier, Connor Astwood, Ellie Wollmann, Hannah Horsfield along with brothers Jordan and Jason Saints spent 2 days training on the water sailing 29′er skiffs with the Olympic 49′er sailors coaching alongside them.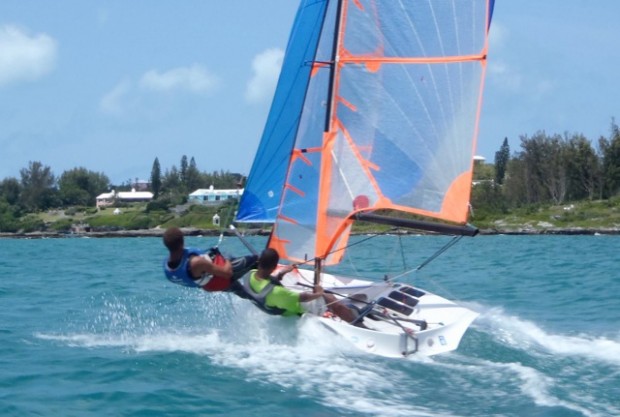 Jesse Kirkland was impressed with the natural ability and commented, "We have a lot of talent in the youth ranks, and its great getting them involved in the 29er, the feeder class to our boat (the 49er). Skiff sailing is very exciting, and we're hoping these guys and girls are the beginning of something promising here."
Brother Zander added, "We were stoked to work with Bermuda's next generation of skiff sailors. We tried to work them through their paces in a practice similar to what we do in the 49er. The short course racing seems basic in a normal sailboat, but in these skiffs, technique is everything and that is what these short courses put a premium one.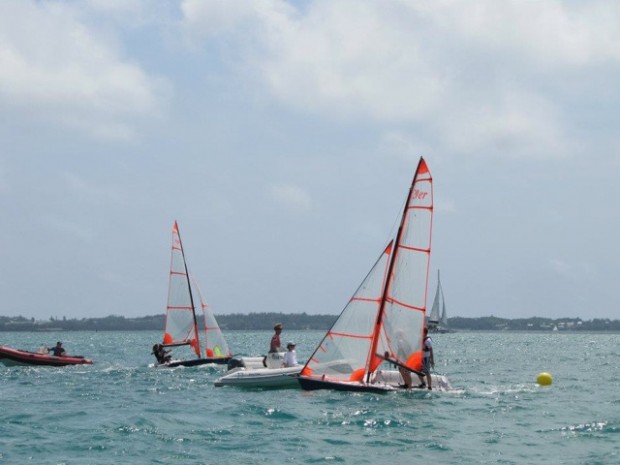 "Throughout the weekend, we emphasized boat handling and the amount of work needed to put in that department in these boats. Ya, its tough and not easy, but all the work is worth it…You sail the Ferrari of the Olympic Classes and rip around the race course!"
The Kirklands are enjoying a couple of weeks of R & R before they head back to Weymouth for the most important regatta of their young lives. Fellow members of the RBYC and the sailing community at large held a send-off party for them on Friday evening and they were wished "good luck" by Vice Commodore Somers Kempe on behalf of the officers, members and staff of the yacht club.
Members of the public can keep track of the Kirkland's Olympic challenge on their Facebook page
Read More About