With the London 2012 Paralympic Games concluding last night [Sept 9] at the Olympic Stadium, Jessica Lewis  — the first Bermudian track and field athlete to qualify for the Paralympics – has been congratulated for her performance which was called "inspirational" and "outstanding."
Premier Cox said, "Jessica has represented our Island and Team Bermuda 2012 with pride and honour Her participation in this year's London Paralympic Games has certainly inspired all of Bermuda. And I am of the view that we can all learn something from her strength and perseverance.
"We recognise that the qualifying standards for these particular games were rigourous and demanding, so it is wonderful that our very own Jessica Lewis succeeded in reaching this historical goal.
"The Olympic and Paralympic Games are considered the pinnacle of international sporting events. And as I noted when I returned from the London Olympics several weeks ago, we recognise that greatness does not just happen overnight.
"There are building blocks that must be put in place. So, this Government is proud to support our Bermudians in their athletic pursuits towards reaching these games.
Ms Lewis carrying the flag during the Opening Ceremony: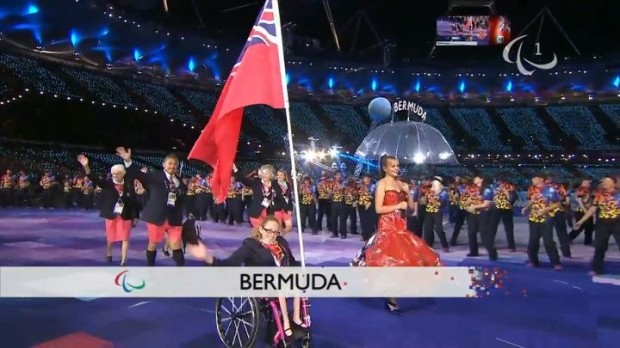 "On behalf of the Government and people of Bermuda, I extend my heartfelt congratulations to young Jessica, for her courage and sportsmanship. I'm sure we have not heard the last from Ms. Lewis and we look forward to seeing even greater accomplishments from this talented Bermudian athlete in the future," concluded the Premier.
Opposition Leader Craig Cannonier also congratulated Ms Lewis saying: "Jessica Lewis's performance at the Paralympics was outstanding, inspirational. It is one thing to make the most of your physical gifts, and triumph over others as so many did in the Olympics. But to overcome a physical disability and compete at that level, not just once but three times, is quite extraordinary. She made Bermuda proud."
The UBP's Kim Swan said: "Charlie Swan and I would like to congratulate Ms. Jessica Cooper Lewis for all the hard work she has put into her training, which allowed her to represent Bermuda in the 2012 Paralympics in London.
"Jessica personifies triumph over adversity, setting an example we can all emulate. She is a proud and determined Bermudian, and she is fitting role model for our entire country during these difficult economic times."
Ms Lewis joined over 4,000 athletes from more than 160 countries during the competition, and competed in the T53 100, T53 200, and T53 400. The 19-year-old said she viewed these Games as an experience, and is focused on contineing to train with the aim of competing in the 2016 Rio Games.
Bermuda made its Paralympic Games debut in 1996, and have participated in every Summer Paralympics since.
Read More About