[Updated with photos] Nearly 60 Bermuda-based colleagues of Marsh and Guy Carpenter are volunteering their time today [Oct 19] to re-landscape the Spittal Pond nature reserve.
Since 2010, Marsh and Guy Carpenter colleagues in Bermuda have set aside a day each year for a company-wide volunteer initiative. For this year's Community Giving Day, colleagues are teaming with representatives from the Department of Conservation Services and the Bermuda National Trust to remove Casuarina trees and other invasive species around Spittal Pond and replacing them with flora native to Bermuda.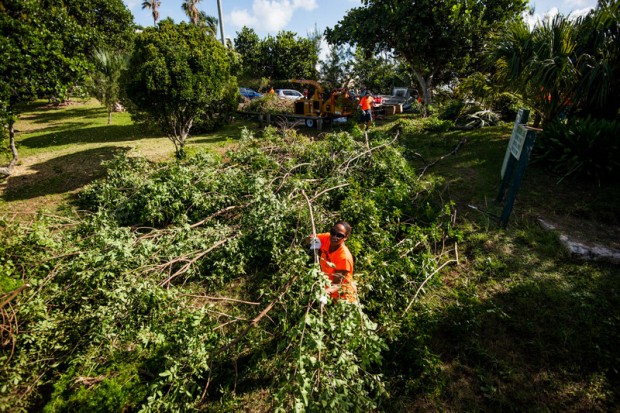 "Community Giving Day has become a great tradition for Marsh and Guy Carpenter and a day that many employees look forward to each year," said David Ezekiel, Bermuda Chairman of Marsh & McLennan Companies and Chairman of Marsh's Bermuda Charity Committee.
"We are thrilled to continue to provide this opportunity to our employees to join together and make a contribution to the community, and hope to inspire others on the island to learn more about Bermuda's environment and volunteer their time to help preserve it."
"We were thrilled when Marsh and Guy Carpenter approached us with the idea of working together," said Andrew Pettit, Director of Conservation Services.
"Many people don't realise that preserving a natural habitat like Spittal Pond involves much more than just cleaning up litter.
"The team of volunteers for Community Giving Day is actually helping to restore the habitat that is home to a variety of native and endemic species vital to the island's ecosystem. Invasive species are one of the greatest threats to biodiversity worldwide and we always need help controlling them."
Click to enlarge photos:
Read More About
Category: All, Environment, Environment, Photos