The Emergency Measures Organisation [EMO] today advised that Tropical Storm Rafael is forecast to impact Bermuda on Tuesday [Oct 16], and is expected to pass by us as a Category 1 hurricane.
Minister of National Security and Chairman of the EMO Wayne Perinchief said: "The latest forecast from the Bermuda Weather Service (BWS) is for Tropical Storm Rafael to pass to Bermuda's east on Tuesday, October 16th bringing storm force winds and rough seas.
"The storm is expected to strengthen to a Category 1 hurricane as it passes the island so I urge residents to be prepared and monitor the storm for any change in strength and direction."
Minister Perinchief also advised that an EMO meeting will be convened on Monday morning.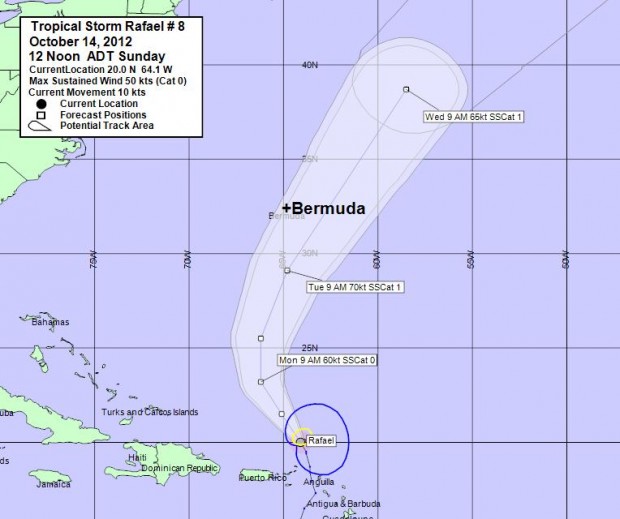 The BWS issued a Tropical Storm Watch in advance of the noon advisory on Sunday, October 14th. A Tropical Storm Watch means tropical storm force winds are expected to affect Bermuda within 48 hours.
A statement from the EMO said: "As of the noon NHC advisory on Rafael and BWS 1130am local forecast: Tropical storm force winds are expected to start by noon on Tuesday lasting roughly nine hours with a period from mid-afternoon through evening where winds will occasionally reach 40-50 knots, gusts to 64 knots especially in the eastern marine areas and elevated and exposed areas east of island; or if a rain band sweeps over Bermuda.
"The Causeway will remain open unless sustained winds exceed 50 knots. The Department of Airport Operations (DAO) will continue to closely assess the latest weather forecast information and will make any determination on potential airport disruptions based on updates from the Bermuda Weather Service.
"Although the latest forecast shows the island will not experience hurricane force winds residents are still advised to check their emergency kits to be sure supplies are adequate. A typical emergency kit would include items such as flashlights, batteries, a first aid kit, non–perishable foods, an ample water supply and disposable utensils. An updated Disaster Advisory Plan is posted on the Government Portal on the Ministry of Health website."
Read More About