Bermuda Regiment soldiers swung into action over the weekend in a series of exercises designed to test their emergency capability on their annual Joint Exercise Weekend.
The training programme was split into three phases, starting with a tabletop exercise at Government House, involving Governor George Fergusson, Premier Paula Cox, Service Chiefs, Government Ministers and senior civil servants. Overnight on Friday, Regiment troops practiced their primary security role, moving in and establishing a presence at the Ferry Reach area and conducting observation patrols throughout the night.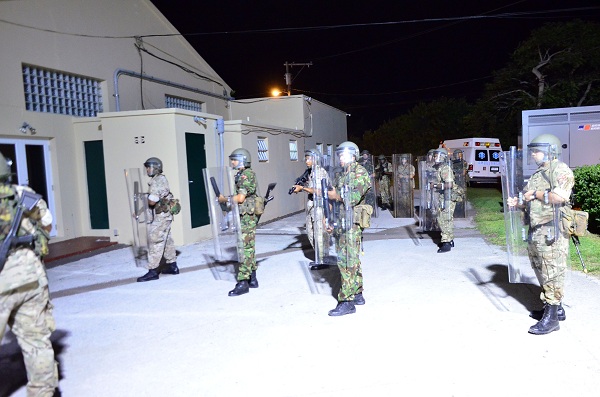 The exercise climaxed with the joint services responding to an explosion at the main oil terminal; this required them to lead their troops while having to deal with deaths and serious injury, as well as oil spillage into the sea and problems at the airport due to clouds of thick smoke.
En route, the soldiers were briefed on a scenario involving heightened levels of security due to a shortage of fuel reserves across the island. Groups were faced with several different tasks ranging from protecting certain KPs (Key Points) in the area to setting up OPs (Observation Points) to assess and evaluate other (potentially threatening) groups.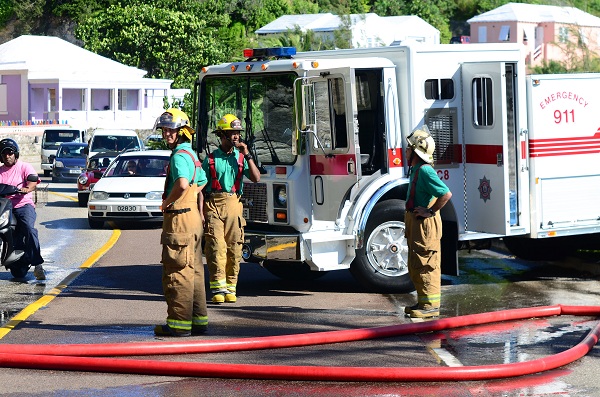 These tasks allowed troops to assume leadership positions within their various sections and practice key skills such as identifying persons and vehicle using military language. One such example was used by troops monitoring traffic in the area and reporting it back through the acronym SCRIM (Shape, Colour, Registration, Identifiers, Model). One participant even remarked, "Since learning these skills, I find myself using them even outside the Regiment to help better communicate."
Review was also on the agenda as veteran troops were afforded the opportunity to brush up on their internal security skills. Both the lessons and the simulated scenarios had the troops practice maintaining public security while wearing their specialist equipment such as helmets and 6ft shields. Some of the most valuable training was not just how to use the equipment, but also how to practice discernment; specifically when and how to disperse groups and neutralize threats according to white, green and blue card security standards. At every incident the soldiers had to ensure they implemented minimum force to achieve their aim.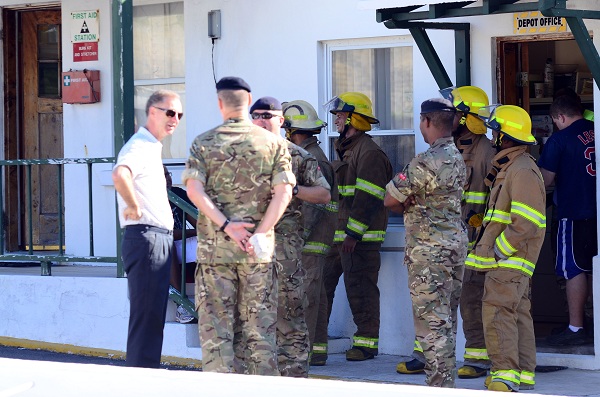 Specialists such as Medics, Signals, Motorised Transport, Caterers and many other sections were working over the weekend to support the efforts of their colleagues in the east end. A key unit was the Boat Troop who maintained a presence all weekend providing valuable observation, intelligence gathering, and logistical support to the other units.
While A-company was designated as they primary operating unit, troops also practiced inter-unit assistance as they neutralized the area in preparation for the Regiment's Training Company soldiers to come in and take over later in the weekend.
Many of the younger soldiers stated that, "coming away from a weekend such as this is a definite encouragement. We see people actually demonstrating values they impress upon us like teamwork and cooperation rather than just speaking to us about them. And we also gain the opportunity to develop our own skills in these areas, which is really, personally beneficial."
The Exercise was viewed and evaluated by the UKs Assistant Military Attaché in Washington Colonel Richard Smith. During the debrief on the Exercise he said, "the Bermuda Regiment has much to be proud of; this weekend you have demonstrated your ability to respond professionally to a variety of situations." He also spoke on the Regiment's willingness to support the other services in whatever capacity they need, whether it is providing an offensive force, transport, or routine manpower and that the Regiment should be proud their adaptability.
Regiment training officer Major Martin Wyer said: "It's been a long and tiring Exercise – but it's really been worth it. It went very well – the exercise was a great success and lots of valuable lessons were learned. The communications flow between the various services involved was a key area of focus. As we continue to work closer with other services we must strive for excellence in this area."
Major Wyer said: "It was very worthwhile – these kind of exercises serve to underline the vital role the Regiment would play if the worst happened. "We provide an extra force of highly capable and well-trained men and women, who can perform well under testing conditions in a variety of roles.
"In these times of limited budgets, it proves our versatility and our ability to support the other emergency services on the island."
Read More About