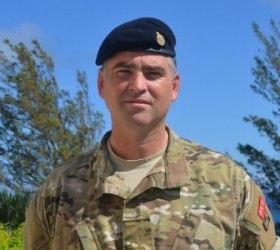 The family of the late Major Christian Wheddon are asking the community for help in gathering memories of him to compile into a remembrance book for his daughter Katherine, who is only three years old.
The family said they "hope that this book will not only bring great comfort to Katherine, but provide colour and vibrancy to the life her father led within the community here and abroad."
"No story is insignificant or frivolous. It can be how he acted in certain situations, funny phrases he said or things he did – anything at all."
The family also extended their thanks to all those in the community who offered their support and words of condolences during this difficult time.
Major Wheddon joined the Regiment in 1987, where he rose to the rank of Major and served as the Adjutant of the Regiment in 2004-2008 and ADC to the Governor from 2008 – 2011.
The 43-year-old Bermuda Regiment officer was killed in a traffic accident on September 9th while on assignment in the UK. Those that knew him best say he was a devoted father, and an excellent soldier.
If you have any stories, pictures or memories of Major Wheddon please send them to Katherinewheddon@gmail.com or send via post to Project Remember Chris, c/o Mark Wheddon, 9 Tankfield Lane, Paget, PG06, Bermuda.
Read More About
Category: All