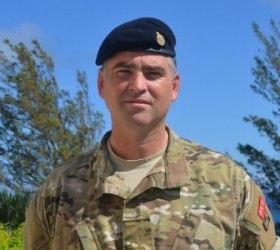 A 28-year-old man who admitted causing the death of Bermuda Regiment Major Chris Wheddon by careless driving has been given a 12-month community order in the UK.
Netani Kepa has to complete 300 hours of community work, pay £500 [$808] costs and was banned from driving for a year.
Kepa, also a soldier, was driving on the A34 near Abingdon on September 9 last year when his vehicle came off the road, killing Major Wheddon, who was a passenger in the vehicle.
The UK media report that the Oxford Crown Court heard that "the car overtook another vehicle before moving into the inside lane and a disused slip road, before crashing."
Sentencing Kepa, Judge Mowat said: "No one will ever be sure why this tragic incident occurred. There are two theories: one that you feel asleep at the wheel and two that you mistook the disused slip road along the carriageway for an inside lane. I am inclined to favour the second but I repeat it is not possible to say for sure."
Major Wheddon [pictured] was in the UK conducting training, and was on his way to his next assignment when the collision occurred.
The 43-year-old served as a police officer before joining the Regiment in 1987, where he rose to the rank of Major and served as the Adjutant of the Regiment in 2004-2008 and ADC to the Governor from 2008 – 2011.
He was buried with full military honours after a packed service at the Anglican Cathedral in Hamilton. The father-of-one is survived by his young daughter Katherine, parents David and Margaret, brothers Mark and Julian, also a Regiment officer, and sister Kim.
Read More About
Category: All