A special quiz night is to be held on Saturday [Feb 9] to raise funds for an educational trust for the young daughter of Bermuda Regiment Major Chris Wheddon who was killed in a car crash while on duty in England.
Organiser Mike Branco, a member of the Broad Arrow Masonic Lodge, where Major Chris Wheddon, who died last year, was also a member, said: "I knew Chris for years – his brother Julian and I went to high school and college together and I got to know Chris really well during our time in the Broad Arrow Lodge.
"We're all still feeling the loss very much in the lodge and charity is a big component of lodge life anyway. We wanted to make sure Katherine has a future and we're happy to do our bit for that."
He added: "Chris was so popular in so many circles – Regiment, police, sailing and the lodge – and he also had a huge circle of friends. There were so many people he hung out with, so we thought this was a good opportunity to get them all together in the same place.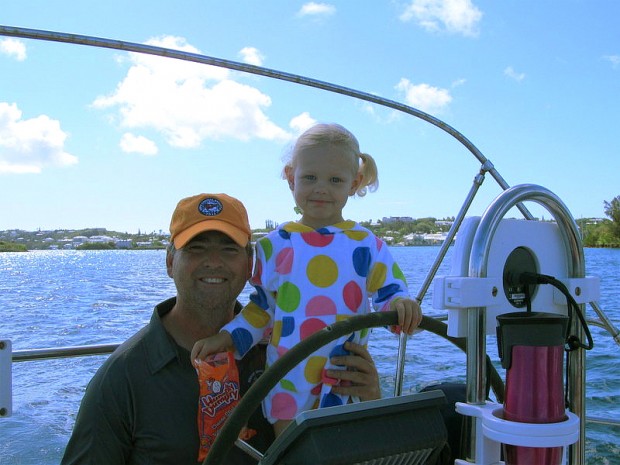 "Major Beasley who is a close friend to both of us was the first one to throw the idea of a quiz out there and we're all rallied behind it."
Maj. Beasley, the Regiment Adjutant, said the Island's military unit has also thrown its weight behind the fundraising effort for little Katherine, aged 3.
And he added that individuals and groups from every sector of Bermuda society are putting forward five-strong teams for the event.
Maj. Beasley said: "Chris was a personal and professional friend of mine and the Regiment's got behind the Lodge's proposal and offered assistance wherever we can in generating interest and signing up donors.
"Katherine is very young just now, but she will require an education – as the cost of education becomes more expensive, we want to ensure we can help with providing that in 15 or so years time."
Maj. Beasley said: "We have had people signing up for the quiz from the Regiment, his sailing team and the Bermuda Police Service.
"The Governor and Government House are entering two teams and some of the 'old boys' from Saltus Grammar School are also entering teams. A great deal of thanks should be given to his Lodge and especially Reed Young from the Docksider Pub and Restaurant who is the primary sponsor of the event.
"We have also received donations from Goslings, Riddell's Bay and Winner's Edge for the auction and raffle – to name a few. There have been numerous gifts and financial contributions towards the event and it will all go towards the education fund."
"Chris was much-loved and the number of people coming forward is tribute to that."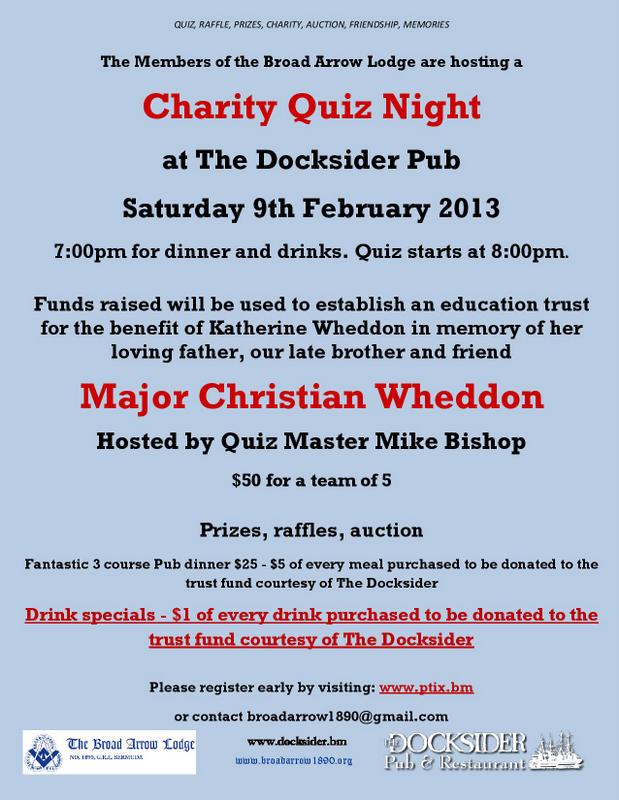 The Major, who was 43 and slated as a future commanding officer of the Regiment, was killed last October when the car he was a passenger in left the road in Oxfordshire while he was en route to a posting with the Royal Anglian Regiment, the sister battalion to Bermuda's defence force.
He was buried with full military honours after a packed service at the Anglican Cathedral in Hamilton. The father-of-one is survived by Katherine, parents David and Margaret, brothers Mark and Julian, also a Regiment officer, and sister Kim.
The event is being organised by the Broad Arrow Lodge, with help from the Regiment. Docksiders pub and restaurant, the venue for the quiz, has also pitched in with a special meal deal for $25 – with $5 of every meal sold going to the fund, as well drink specials, with $1 from every drink also going to Katherine's educational trust.
The pre-quiz dinner will be served from 7pm on Saturday, February 9, with the quiz kicking off at 8pm and it costs $50 per team of five to enter. Teams can register [and make donations] at ptix.bm free of charge or contact broadarrow1890@gmail.bm.
Read More About
Category: All