Shortly after 6pm last night [Sept 20], the British Airways flight from Gatwick landed at the LF Wade International Airport carrying the body of Major Christian Wheddon. The plane was met at the terminal by various officials and Major Wheddon's family members, with the flag draped casket received by a Regimental guard.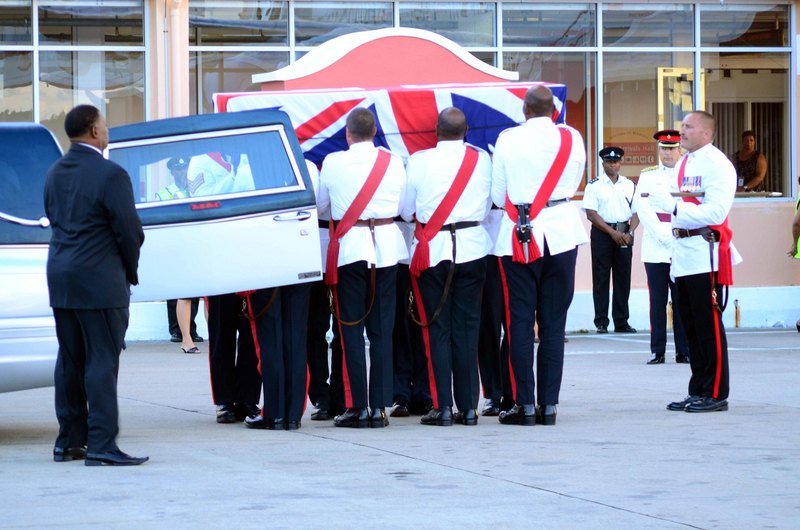 Bermuda Regiment soldiers received the casket and carried it past those gathered to an awaiting funeral home vehicle, which left the airport with a police escort. Many vehicles stopped outside the airport and members of the public peered through the fence to witness the somber repatriation.
Major Wheddon was killed in a traffic accident on September 9th in the UK, after the Mitsubishi Warrior he was a passenger in went off the carriageway.  He was in the UK conducting training, and was on his way to his next assignment when the collision occurred.
The 43-year-old served as a police officer before joining the Regiment in 1987, where he rose to the rank of Major and served as the Adjutant of the Regiment in 2004-2008 and ADC to the Governor from 2008 – 2011.
Major Wheddon was highly respected within the community, with those paying tribute to him including Commanding Officer Lt/Col Brian Gonsalves, Captain Ben Beasley, Former Commanding Officer and Honorary Colonel Eugene Raynor, Former Regiment Commanding Officer Lt/Col Edward Lamb, Defence Board Chairman Major Wendell Hollis, Governor George Fergusson, Minister of National Security Wayne Perinchief, Opposition Leader Craig Cannonier, UBP Leader Kim Swan, Commissioner of Police Michael DeSilva and many more.
- Footage by Kenneth Byron carried by permission, and courtesy of, the Bermuda Regiment.
Read More About
Category: All