[Written by Laurie Fullerton] Bermuda's young sailor Chase Cooper won the first ever Dick Kempe Award as the top Bermuda sailor in the Renaissance Re Junior Gold Cup sailed October 4-7 on Bermuda's Great Sound and Hamilton Harbour. Cooper finished seventh overall out of 39 entries, 16 from 15 countries and the remaining 23 from Bermuda.
The Renaissance Re Junior Gold Cup – now in its 10th year – is an event that brings the best young International Optimist Class sailors from around the world to Bermuda. In doing so, it also creates a unique opportunity for Bermuda sailors to host and compete against many national champions who also become lifelong friends.
Chase Cooper receiving his award, photo by Charles Anderson: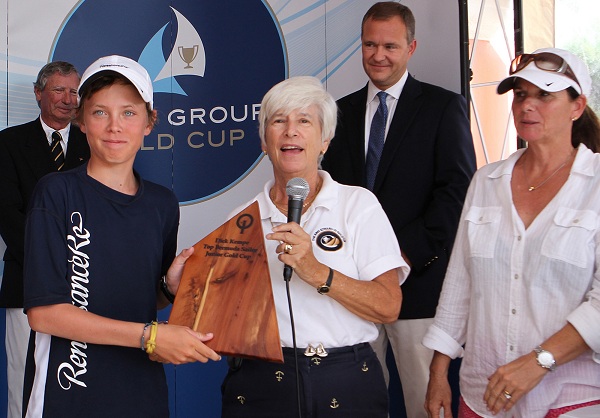 Chase's sportsmanlike demeanor, sailing talent and overall performance both on the water and off made him a great recipient for this new award. Cooper is emerging as a top young Bermuda sailor who showed he has honed his skills and is competitive with the world's best young Opti sailors.
Not only did Chase sail a great regatta, but he quietly set the standard for being a young Bermudian host to the international contingent of Optimist sailors who spent nearly one week practicing and racing in Bermuda.
There is no doubt that this event stays in the minds of the young sailors from overseas. It also raises the level of sailing for Bermuda's youth sailors who would not normally get to meet the world's best. The support for youth sailing here has always been important to people like the late Dick Kempe and in his honor Chase Cooper was given the inaugural Dick Kempe award for being the top Bermuda sailor in this event.
Chase Cooper leads Milo Gill-Taylor in the final race, photo by Talbot Wilson: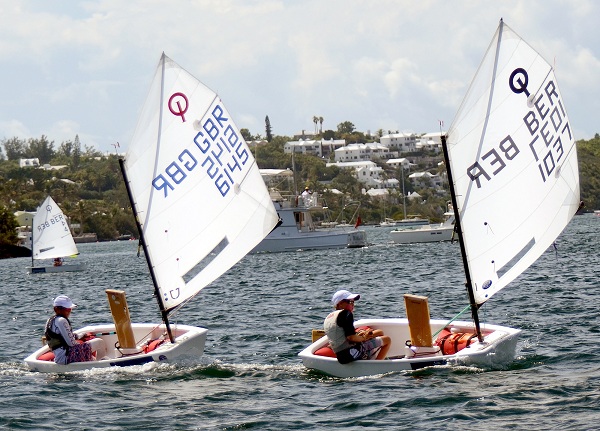 "I think this regatta went really well," young Chase Cooper said. "We got to race against the best sailors from their home countries and it is good for all of us in Bermuda to get to learn from them and race against them. I didn't think I had been sailing well all summer, but things really improved for me this week."
Cooper is the first Bermuda sailor to have his name inscribed on the new Dick Kempe Trophy. The trophy honours the memory of the late Dick Kempe, a Royal Bermuda Yacht Club commodore and well-respected international juror. Kempe was very devoted to developing and encouraging youth sailing. The trophy was donated and presented by Mrs. Neil Kempe in memory of her late husband.
"The kids love coming here because they know the competition is good and they really get to sail out there with the best," said event chairman Somers Cooper, Chase Cooper's father. "This event is also unique because it is tied to a world class match racing event, the Argo Group Gold Cup."
"The young kids get to meet their sailing heroes and it continues to inspire their love of sailing and the sport. We really do have to thank our 10-year sponsor, Renaissance Re, for making this happen. We could not do it without them."
View all our coverage of the Renaissance Re Junior Gold Cup here.
Read More About